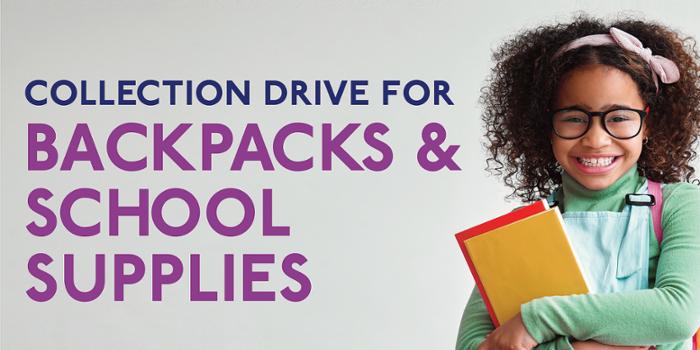 Backpack and School Supplies Drive
What
Donate backpacks (new or gently used) and school supplies to help local children prepare for the school year. Items will be distributed at the annual Mary Nelson Youth Day BBQ on August 18, 2018.

Help support the award-winning charitable work of Upstate employee Mary Nelson.
When
July 16 - August 3
Where
Collection box locations:
Academic Building — 1st and 2nd floor lobbies
Cancer Center — 1st floor lobby
Child Care Center, 650 South Salina St.
Community Campus hospital — 1st floor main lobby
EM-STAT, 550 East Genesee St., rm. 200E
Financial Services, Galleries, 447 South Salina St., 4th floor breakroom
Health Sciences Library, main lobby
Jacobsen Hall, main lobby
Joslin Diabetes Center, 3229 East Genesee St.
Marketing, 250 Harrison St., 4th floor
Mary Nelson's Youth Center, 2849 South Salina St.
Silverman Hall, main lobby
Weiskotten Hall, main lobby
Or, give donations directly to Mary Nelson at Radiology, Specialty Services at Harrison (550), suite F
Volunteers Needed
To volunteer at the Youth Day BBQ, call 315.464.4836 and speak with Becca Pesci. You can also contact Mary Nelson's Youth Center at 315-422-2761. 

Saturday, August 18, 2018
11 am to 6 pm
Corner of South Salina St. and Wood Ave. in Syracuse
For more information
Call Mary Nelson at 315.422.2761 or visit Youth Day BBQ. 
Mary's message: "Stay in school! They have a world of possibilities, and it has to start with education."