CITI Training Requirements
Conflict of Interest Management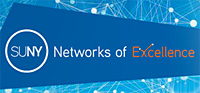 Proteomics & Mass Spectrometry
Core:
Core Facility for Proteomics & Mass Spectrometry
Core Director:
David Kakhniashvili
Phone:
315 464-4563
Location:
Weiskotten Hall Addition, Room 4303
Email
:
kakhniad@upstate.edu
Web Site:
Proteomics & Mass Spectrometry Core Facility
Instrumentation in Core:
LTQ Orbitrap XL mass spectrometer with Surveyor Plus HPLC System
Q-TOF Micro mass spectrometer with HPLC System
Typhoon 9410 Variable Mode Imager
Ettan IPGphor 3 IEF System and Ettan DALTsix Large Vertical System
Ettan Spot Picker
Brief Description of Core: The mission of the Proteomics Core Facility is to promote the understanding and use of proteomics technologies. The core provides researchers with a facility to identify proteins and to assist in the characterization of protein modification and differential expression including consultation on sample preparation and experimental design.
More information on services, fees, and sample preparation can be found on the Proteomics & Mass Spectrometry Core Facility website.
Core Fee Schedule: Service and Rates
How to Access Core Services: Contact core director.