CITI Training Requirements
Conflict of Interest Management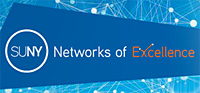 Upstate Active Clinical Trials
Study Title:
GSK Protocol BRF113928: A Phase II study of the BRAF inhibitor dabrafenib as a single agent and in combination with the MEK inhibitor trametinib in subjects with BRAF V600E mutation positive metastatic (stage IV) non-small cell lung cancer
What is the purpose of the study?
abrafenib is a potent and selective inhibitor of BRAF kinase activity. This is a Phase II, non-randomized, open-label study to assess the efficacy, safety, and tolerability of dabrafenib administered as a single agent and in combination with trametinib in stage IV disease to subjects with BRAF mutant advanced non-small cell lung cancer. Subjects will receive dabrafenib 150 mg twice daily (BID) in monotherapy treatment and dabrafenib 150 mg bid and trametinib 2 mg once daily in combination therapy and continue on treatment until disease progression, death, or unacceptable adverse event.
Upstate Institutional Review Board (IRB) Number:
461053
Study Phase:
II
Patient Age Group:
Adults
Principal Investigator:
Stephen L Graziano, MD
ClinicalTrials.Gov ID:
NCT01336634
For more information about this trial go to ClinicalTrials.Gov
Who can I contact for more information?
Name: Lynn M Agostini, AAS
Phone: 315-464-8237
Email: agostinl@upstate.edu