Research Administration
Weiskotten Hall
Rm. 1111,
766 Irving Avenue
Syracuse, NY 13210
Map & directions
Phone:
315 464-5476
Fax:
315 464-4318
The mission of SUNY Upstate Medical University is to improve the health of the communities we serve through education, biomedical research and health care.
As an integral part of this mission, the office of research administration oversees compliance, research integrity, responsible conduct of research, tech transfer, and industry outreach.
We provide service to faculty and staff seeking to obtain research funding. The sponsored programs post-award office provides comprehensive grants management services once a research account has been established.
Inaugural Nappi awards competition distributes $650,000 to Upstate-SU research collaborators
Details on the event and award winning teams
See the video of the event
Events
Human Subject Research Symposium
Feb 5, 2018 10:44 AM
Research Admin REDCap Presentation
May 24, 2016 in Weiskotten Hall - 0103.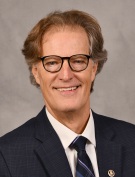 Mark E. Schmitt, PhD
Interim VP for Research
FROM THE VICE PRESIDENT FOR RESEARCH
Biomedical research performed at Upstate spans studies on molecules to model organisms and human populations.
The research focuses on diseases that affect our local community such as diabetes and cancer as well as global health challenges such as dengue. I welcome you to explore our departments to learn more about the exciting research being done at Upstate.