Laundry Pods calls to poison centers still on the increase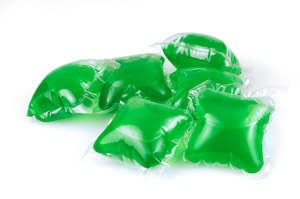 Poison Centers nationwide are urging the public, especially parents, to keep highly concentrated "single dose packs" of laundry detergent up and out of reach of children.
Poison Centers have reported a continued increase in calls about pediatric exposures to these single-dose packets. These highly concentrated, "pre-dose" packs are very colorful and therefore attractive to young children. The majority of exposures have happened to children under the age of 3. It is reported that most children bite into the pod, often followed by gagging. In some cases, vomiting occurs. However, while most exposures occur through ingestion, skin or eye exposure to the product have been reported.
Parents may not consider these products to be dangerous, and therefore may leave them on top of the washing machine or within reach of their children. Unlike other household laundry detergents, which may only cause minor GI symptoms, these products have caused decreased rate of breathing, decreased heart rate, loss of consciousness, wheezing, aspiration and prolonged vomiting. Exposure has resulted in hospital admission. Children who initially exhibit some gagging, nausea, and vomiting become lethargic within a matter of 10 to 30 minutes from the exposure.
Ophthalmologists have seen corneal abrasions due to ocular exposures to these pod-type laundry detergents. The adverse effects from these products may be caused by the breakdown of the chemicals, a bodily reaction to the substances, or perhaps a chemical reaction with the acid in the stomach.
The Upstate New York Poison Center recommends:
If your child has broken open a laundry pod, call the Poison Center at 1-800-222-1222. The registered nurse who answers the phone will ask a few questions and determine the best option. Most calls to a Poison Center are managed at home. If it is determined that a trip to an emergency facility is the best option, the poison specialist will help direct you.