DEA Allows Pharmacies to Take Back Unused Prescription Medications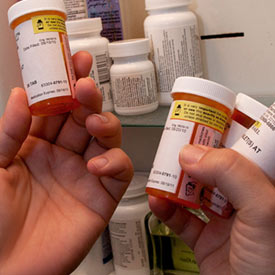 "Overdoses involving prescription painkillers are at epidemic levels"
Dr. Tom Frieden, Director of the Center for Disease and Prevention (CDC)
Sept. 7, 2014 There has been a dramatic increase in the number of deaths involving opioids over the past several years, due in part to the increase in the number of prescriptions written (close to 4 million in 2013), increasing the availability and thereby easy access to dangerous drugs.
In response to our nation's drug epidemic the Drug Enforcement Administration (DEA) took a major step forward this week in announcing that consumers are now allowed to return their unused prescription medications to pharmacies. Slated to go into effect in October 2014, the new regulation covers controlled substances such as opioid painkillers, stimulants and depressants.
According to a 2014 Partnership for Drug-Free Kids study, 70% of teenagers who used drugs "got them" from a friend or family member. One goal of this new initiative is to reduce the number of unwanted or outdated medicines within the home, limiting availability and accessibility.
"This is such great news", says Gail Banach, Director of Public Education and Communications at the Upstate New York Poison Center. "A huge round of applause to NY State Senator Chuck Schumer and to the DEA for their efforts in amending these regulations, making it easier for consumers to hand-in their medications, back to pharmacy."
Until now, consumers have had limited options for the disposal of controlled substances. The Controlled Substances Act allowed disposal of the these drugs by: flushing or adding kitty litter or other adulterant before disposing in trash; or by handing them in to law enforcement agencies, generally at DEA Take Back events or at kiosks set up at law enforcement facilities.
In four years these take back events have removed from circulation 4.1 million pounds of prescription medications. "Our Center has been involved with drug take-back events since 2007 and we support every effort for the community to rid their medicine cabinets of unwanted prescription meds. This will also allow community members increased opportunity to properly dispose of their medications on a regular basis," stated Banach.
Pharmacies may choose to register with the drug agency to take back controlled substances or to receive leftovers drugs through the mail.
Whether it will be communities, pharmacies, insurance programs, patients or pharmaceutical companies who must pay for disposal costs is not addressed in the new rule. Until further clarification, there may be limited participation by pharmacies.
However, the importance of regular disposal of unwanted, unused medication is essential. "In light of this public health crisis," says Banach, "our communities must come together to spread the word. If drugs are available in the home, they are accessible to anyone who visits, all adding to the problem."
The Upstate New York Poison Center recommends getting rid of all unwanted, unused meds as quickly as possible after use to reduce the risk of drug abuse, misuse or even accidental poisoning.
The next DEA Drug Take Back Day is scheduled for September27, 2104 from 10am to 2pm. Visit the DEA website

to find your closest location to dispose of your unwanted medications.