University Rehabilitation Center at University Hospital
Location:
750 East Adams Street, Syracuse, NY 13210
Map & Directions:
Google Maps

Phone:
315 464-6543
Email:
gardners@upstate.edu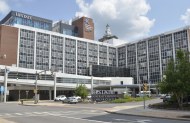 —INPATIENT
Medical Rehabilitation Services
—OUTPATIENT
Medical Rehabilitation Services
Services Provided
Inpatient Medical Rehabilitation Services
University Hospital offers many acute care services as part of our very special care.
Patients throughout University Hospital may receive physical and or occupational therapy services as ordered by their doctor. These services are usually requested when patients have physical or cognitive problems affecting their ability to move around or take care of themselves.
Acute Inpatient Rehabilitation
The inpatient rehabilitation unit at University Hospital (2 North) consists of 30 beds. Adults and children are admitted for specialized care by a dedicated team of rehabilitation professionals, including doctors, nurses, therapists, and case managers.
What the Rehabilitation Team Does
The Rehabilitation Team works with patients and their families to:
Provide education
Increase independence
Assist in planning the transition to home or to the next level of care
Commonly Treated Conditions
Joint replacement
Multiple fractures or trauma
Amputation
Spinal cord injury
General or post-operative deconditioning
Education and Therapeutic Activity
Patients and families are provided with education about their illness or injury and disability, and with a daily program of therapeutic activity. Depending on their condition, patients may receive services to address the the following issues:
Movement
Endurance
Functional Skills (e.g., bathing, dressing, and other activities of daily living)
Adjusting and coping with injury and disability
Thinking skills
Pain management
Bowel and bladder management
Medication management
Outpatient Medical Rehabilitation Services
Body weight support treadmill training
Brain Injury
Burn Rehabilitation
Lymphedema
Neurological
Pediatric

Speech / Language
Spinal Cord Injury
Stroke
Tone management and movement program
Wound Management

Read more about these Clinical Services