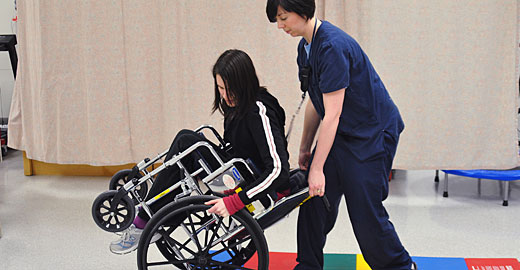 Wheelchair Seating Program
The Physical Medicine and Rehabilitation Department at University Hospital offers a program designed to provide a therapy evaluation and recommendations for specialized seating and wheelchair needs.
University Rehabilitation Center
Upstate University Hospital - Downtown Campus
Rm. N2104, 750 East Adams Street
Syracuse, NY 13210
Map & direction
Phone:
315 464-6543
Fax:
315 464-4753
Hours:
Mon.-Fri. 7:30am-4:30pm
Outpatient Rehabilitation Center
550 Harrison Center, Suite 100
Syracuse, NY 13210
The program is offered to individuals in need of alternative mobility, transport or positioning systems. A specialized therapist will assists the individual or the caregiver in obtaining the proper equipment. This includes medical justification and assistance with authorization.
A physician's referral is required for examination and treatment within this program.