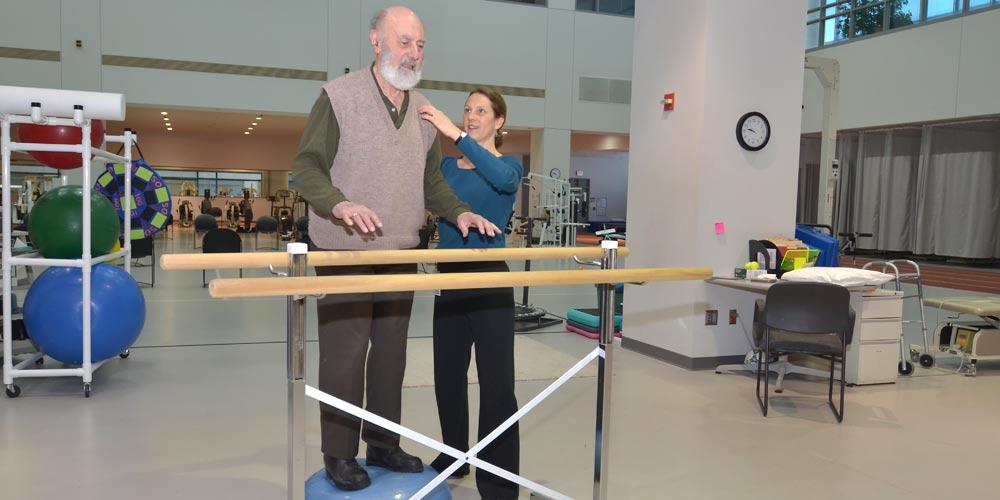 Balance and Falls Program
Upstate Rehabilitation at Manlius
Manlius Health Center
Suite 200,
102 West Seneca Street
Manlius, NY 13104
Map & directions
Phone:
315 464-6543
Fax:
315 464-4753
Hours:
Mon. Wed. Fri. - 8am-4:30pm; Tues. Thurs. - 7:30am-6pm
The Balance and Falls program is a comprehensive program designed to assess and treat patient with balance and fall issues. The program includes physical therapy for exercise, posture, and safety education. Occupational therapy services may be indicated for additional adaptive equipment needs.
Who Would Benefit from the Program?
Individuals with a history of falls and gait disturbances including those with osteoporosis, back pain, neuropathy, post hip and knee replacements, generalized weakness, and neurological disorders will benefit from this program.
What to expect from Therapy
A complete evaluation will be conducted during the initial visit. This evaluation may include a variety of tests to measure your strength, endurance, gait speed, balance, and joint movement. In addition to testing, a detailed history of your lifestyle, activity level, and home environment is conducted to help provide appropriate treatment.
A supervised exercise program, specific to your individual needs will be conducted. Strengthening and flexibility, coordination, balance and agility exercises, and core strengthening exercises on specialized equipment will enhance your therapy goals. You will receive detailed diagrams of exercises, proper body mechanics, and safety and fall prevention techniques for your home program. The goal of the program is to decrease the risk of falls, increase activity level, and improve safety awareness.
Preparing for your Visit
Wear loose clothing (slacks are recommended to allow ease with exercise and movement).
Wear supportive shoes
Bring a list of all medications
Bring or wear your glasses and hearing aides
There are balance specialists at all locations.
A physician's referral is required for examination and treatment within this program.