Content
Meet Our Residents - Academic Year 2016-2017
 
"From the moment I stepped foot into Upstate University Hospital for my interview, I felt at home. Surrounded by a progressive department full of professional, passionate, and insightful preceptors and staff members, Upstate offers a learning experience second to none. I found the unique structure including a strong core of internal medicine in addition to a wide variety of learning experiences, and research and teaching opportunities to be extremely appealing in gaining a strong foundation as a PGY1 resident. The program also highly values inter-professional collaboration and has given me the opportunity to work aside a number of other healthcare professionals including medical fellows, residents, and students. Upstate has given me the ability to immerse myself into the ever growing field of pharmacy practice and continues to foster my professional growth and clinical knowledge as a new pharmacist."
Elizabeth Feldman, PharmD, PGY1 Pharmacy Resident
Graduate of Lake Erie College of Osteopathic Medicine
Email: feldmane@upstate.edu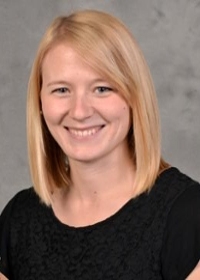 "I chose SUNY Upstate University Hospital for my pharmacy residency because the program contained all of the elements I considered most important in my search for a pharmacy residency program. I knew the program would offer me exceptional opportunities to grow and develop my clinical skills in a culture of mentorship and support. The diverse specialty learning experiences have expanded my knowledge base while the internal medicine longitudinal experience has developed my confidence and independence as a pharmacist. Other equally important factors in my decision to come to Upstate were the opportunities for research, multi-disciplinary interaction, to co-precept pharmacy students, and to earn a teaching certificate from St. John Fisher College. From the moment I stepped on Upstate's campus, I knew I would be welcomed into the pharmacy family and pushed to be the best clinician I could be. I can confidently say that my experience during my residency at Upstate has been everything I hoped it would be and more."
Anne Krasniak, PharmD, PGY1 Pharmacy Resident
Graduate of Purdue University College of Pharmacy
Email: krasniaa@upstate.edu



"I chose Upstate for my PGY-1 residency for a variety of reasons.  The high level of training of the preceptors ensures that you receive your training from experts in their respective fields.  Upstate has a very collaborative pharmacy practice model in which you are allowed to play a large role in a variety of treatment teams.  Being in an academic medical center with a commitment to learning has been a great experience, as I feel I am being exposed to a wide breadth of experiences that have drastically expanded and increased my level of practice.  Finally, the clinical pharmacology team here at Upstate is an extremely welcoming group that strives make you feel like a part of the team, an aspect that was evident during my interview and something I have found to readily noticeable during my day to day practice."
Michael Lorenzo, PharmD, PGY1 Pharmacy Resident
Graduate of Western New England University, College of Pharmacy
Email: lorenzom@upstate.edu





"I chose Upstate University Hospital for my post-graduate residency training because of the enthusiasm that all members of the program show and the numerous opportunities the program affords their residents. The program offers a robust variety of specialty rotations and electives to gain experience in a wide range of fields, while offering a large internal medicine component allowing residents to gain autonomy and incorporate knowledge learned from specialty rotations. I believe the mentorship provided by all of the clinical preceptors active in the residency program at SUNY Upstate to be second to none, and has an invaluable impact on the development of their residents. Finally, the atmosphere created by members of the pharmacy department at Upstate University Hospital truly makes residents feel like a part of the pharmacy family."
Bryan Mogle, PharmD, PGY1 Pharmacy Resident
Graduate of SUNY at Buffalo School of Pharmacy and Pharmaceutical Services
Email: mogleb@upstate.edu





"I chose Upstate because I wanted to pursue pharmacy residency training in an academic medical center and surround myself with knowledgeable and encouraging preceptors who constantly push me to succeed. Upstate treats me like family and I am truly honored to be able to pursue my residency training here. There is a multi-faceted approach to pharmacy resident training including experience in operational, clinical, and research areas as well as the opportunity to teach junior learners. I feel that after completion of this year as a resident I will have all the tools I need to be a successful pharmacist."
Patrick Rose, PharmD, PGY1 Pharmacy Resident
Graduate of the University of Buffalo
Email: rosep@upstate.edu


"After having the opportunity complete a longitudinal rotation at Upstate as a pharmacy student, I knew this was the institution where I wanted to expand upon knowledge obtained in pharmacy school. At Upstate, patient care and learning are of highest importance, which is something I wanted to be a part of. The Upstate pharmacy department is well respected and highly integrated throughout the hospital, providing ample complex clinical experiences. In addition to the clinical experiences, Upstate offers opportunities to co-precept and mentor pharmacy students, aid in the education of medical students, and an opportunity to obtain a teaching certificate from St. John Fisher College. Furthermore, the family feel and open-door policy Upstate offers provides an environment for a relaxed resident, preceptor/mentor interactions. The residency program faculty not only strives to see you succeed during your residency but in your future endeavors as well. Upstate has introduced me to so many caring, enthusiastic and influential pharmacists, who have aided in the development my professional development and clinical skills I need to achieve my career goals."
Joshua Schrader, PharmD, PGY1 Pharmacy Resident
Graduate of the University of Buffalo
Email: schradjo@upstate.edu


Danielle Longo, PharmD, PGY2 Ambulatory Care Resident
Graduate of University of Rhode Island College of Pharmacy
Email: longodan@upstate.edu





Andrew Stoessel, PharmD, PGY2 Infectious Disease Pharmacy Resident
PGY1 Pharmacy Resident, Jackson Memorial Hospital, Miami, FL
Graduate of South Carolina College of Pharmacy, USC Campus
Email: stoessea@upstate.edu




Lauren Machell, PharmD, PGY2 Pediatric Pharmacy Resident
PGY1 Pharmacy Resident, Upstate Medical University 2015
Graduate of Wilkes University Nesbitt School of Pharmacy
Email: machelll@upstate.edu