Content
PGY-2 Pediatrics Residency
A message from our PGY-2 Pediatrics Pharmacy Residency Program Director Kelly Steidl, PharmD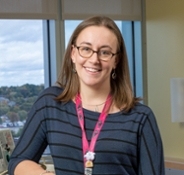 "My dedication to this program as a residency director is steadfast, as I am both a graduate of the PGY-1 Pharmacy and PGY-2 Pediatric Residencies at Upstate. We provide an attractive learning environment and unique opportunities that will help you grow into a well-rounded pediatric specialist. The pediatric pharmacy team is an integral part of the patient experience here at Upstate because we consistently provide dedicated specialized knowledge to the medical providers, patients and caregivers."

Educational Program Overview
The PGY-2 Pediatric Pharmacy residency offers a concentrated experience in various areas of pharmacy practice focused on the care of pediatric patients. In addition to participating in clinical rotations in general pediatrics, pediatric critical care, pediatric hematologyoncology, pediatric ambulatory care and various subspecialty electives, residents will participate in teaching activities, including in-services, clinical pharmacy rounds, pediatric grand rounds and coprecepting opportunities with PGY-1 residents and pharmacy students.
Complementing the clinical experience, residents will be involved in journal club presentations, newsletter publications, drug utilization evaluations, formulary drug reviews and a structured research
project. Research intensity is driven by residents' desire.

Residency Program Highlights
General Pediatric Pharmacotherapy
Pediatric Critical Care
Pediatric Hematology-Oncology
Clinical Pharmacokinetics
Pediatric Ambulatory Care
Pediatric Infectious Diseases
Pediatric Emergency Medicine
Electives in sub-specialties include:
Pediatric Pulmonary Medicine
Pediatric Gastroenterology
Pediatric Cardiology
Clincial Toxicology Services

Site: Upstate Golisano Children's Hospital
The Golisano Children's Hospital (GCH) is part of the vertical expansion of University Hospital. The GCH is a 71-bed children's hospital space within the 735-bed Upstate Health System that combines
Upstate University Hospitals on the Downtown and Community campuses.
Ambulatory care services provided by hospital faculty and staff in an adjacent complex include pediatric and adolescent as well as numerous subspecialty clinics. The Department of Pharmacy has a
dedicated team of pharmacists that provide clinical services for pediatrics and operate from their own office in the children's hospital.
Interested candidates should contact Dr. Kelly Steidl (
steidlk@upstate.edu
) for more information.