Content
PGY-1 Pharmacy
SUNY Upstate University Hospital participates in the MATCH program.
Applicants must be graduates of an accredited College of Pharmacy with a Doctor of Pharmacy degree or equivalent experience.
Applicants must apply to the MATCH program and must be prepared for an onsite interview.
Details of the interview will be forwarded via email or phone.
Visit our residency website at www.upstate.edu/pharmacy/education.
Applications should be submitted via the Pharmacy Online Residency Centralized Application Service (PHORCAS). Additional information may be obtained
by e-mailing the residency program director: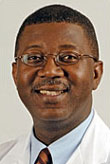 William Darko,
B.Pharm., Pharm.D
Residency Director
Location: Upstate University Hospital
Pharmacy Department
750 East Adams Street., Syracuse, NY 13210
Phone: 315 464-9929
darkow@upstate.edu