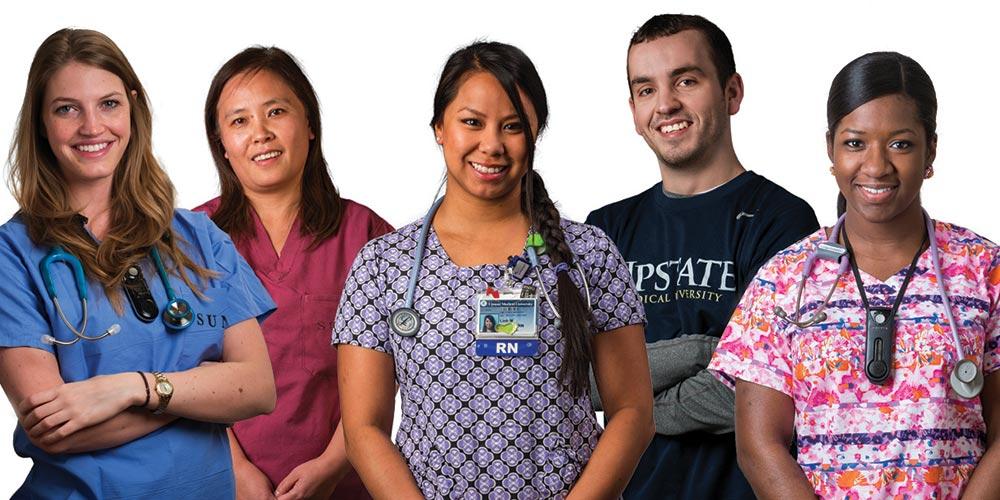 Clinical Advancement Program
The Upstate Nursing Department Clinical Advancement Program (CAP) was created as a way to recognize and reward nurses for enhanced clinical and professional practice that aids in achieving optimal patient outcomes and meeting department and unit goals.
A feature of the CAP includes recognition for demonstrating increased levels of contribution to patient outcomes and nursing department and unit goals. It is a dynamic system program responsive to the changes in the health care delivery system and the nursing profession. The CAP is based on the AACN Synergy Model and our Upstate Patients First Innovative Care Model. It was developed by the Nursing Professional Development Committee and approved by the Nursing Executive group, Nursing Manager group, and Trainer group. CAP is a voluntary program dedicated to the advancement of the profession of nursing at Upstate through improved outcomes. Applications to the program, and movement through the program, will be managed by the 3R Professional Nursing Shared Governance group. For more information about the CAP, click on Program Overview under Resource Documents.
Resource Documents
Clinical Levels
Eligibility
Application to the CAP is voluntary. It is open to all Teaching and Research Center Nurse 2's and Specialty Nurses in direct patient care roles within the Nursing Department. The applicant must have a current satisfactory evaluation and work record.
Recipients
The Nursing Department is pleased to recognize its Clinical Advancement Program recipients. The
CAP Awardees submitted applications and took part in an interview process to demonstrate how they have contributed to achieving optimal patient outcomes and meeting department and unit goals. They should be recognized and rewarded for their enhanced clinical and professional practice. They will take part in a recognition luncheon and have an annual allowance to be used towards professional development activities including attending conferences, attending classes, buying books and more. Congratulations!