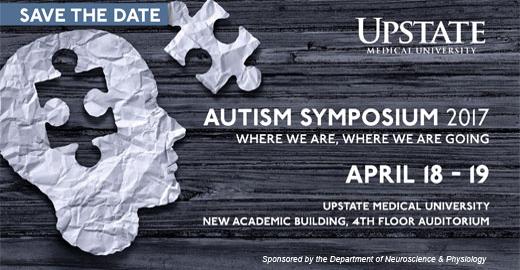 Upstate Neuroscience Symposium
Presented by
The Program in Neuroscience at SUNY Upstate Medical University.
April 18 – 3:00 to 6:30 pm General audience
John Donvan - ABC News, New York Times best-selling author: In a Different Key: The Story of Autism
Stephan Sanders - Assistant Professor of Psychiatry
UCSF School of Medicine
Arthur Beaudet - Henry and Emma Meyer Distinguished Service Professor
Department of Molecular and Human Genetics
Baylor College of Medicine
April 19 – 8:45 am to 6:30 pm Science-oriented audience
Steven Hicks - Assistant Professor of Pediatrics
Penn State University
Gahan Pandina - Senior Director, Compound Development Team Leader
Janssen Research & Development
Pharmaceutical Companies of Johnson & Johnson
Joseph Dougherty - Assistant Professor of Genetics and of Psychiatry
Washington University in St. Louis
Janine LaSalle - Professor of Medical Microbiology and Immunology
UC Davis Genome Center
UC Davis MIND Institute
Weirui Guo - Postdoctoral Associate
UT Southwestern
Randall Carpenter - Chief Scientific Officer
Rett Syndrome Research Trust
Brian Howell - Associate Professor of Neuroscience & Physiology
Upstate Medical University
Arthur Beaudet - Henry and Emma Meyer Distinguished Service Professor
Department of Molecular and Human Genetics
Baylor College of Medicine
---
The Symposium will be held in the New Academic Building.  
Access to the NAB is through Weiskotten Hall (766 Irving Ave).

Written directions to Weiskotten Hall

PDF of Map

---
Registration preferred - register here

This event is free and open to the public
---
view schedule as a PDF

Updated 4/17/17
---
Speakers
John Donvan
is a correspondent for ABC News, and host and moderator of the Intelligence Squared U.S. Debates, which are heard on public radio and by podcast. During his journalism career, in addition to anchoring such broadcasts as ABC's Nightline, John served as chief White House correspondent, and held multiyear postings in London, Moscow, Jerusalem, and Amman, Jordan. He is the winner of three Emmys and the Overseas Press Club Award. He became interested in autism's impact on families upon meeting his wife, the physician and medical school professor Ranit Mishori, who grew up in Israel with a brother profoundly affected by autism. John also performs as a live storyteller with the group Story District. He has two children and lives in Washington, DC. (Twitter: @JohnDonvan

) Photo Credit: Ralph Alswang
---
Stephan Sanders

trained as a pediatric physician in the UK before pursuing a research career in genomics and bioinformatics. His work has helped characterize the role of de novo mutation in the etiology of Autism Spectrum Disorder (ASD) and identified multiple ASD risk loci including duplications of the 7q11.23 William's Syndrome region (Sanders et al. Neuron 2011) and mutations in the sodium channel gene SCN2A (Sanders et al. Nature 2012). His work on the integration of CNV and exome data across multiple ASD cohorts recently identified 71 ASD risk loci (Sanders et al. Neuron 2015). In addition, he worked as part of a group that integrated spatiotemporal gene expression data from the human brain with these ASD-associated genes (Willsey et al. Cell 2013). This approach has implicated deep layer glutamatergic neurons in the frontal cortex during mid-fetal development in the causation of ASD. His lab has three main research questions: 1) Understanding the genetic basis of childhood neurodevelopmental disorders, in particular ASD; 2) Understanding how these genetic factors lead to the disorders; and 3) Understanding the mechanism of that leads to the male bias in ASD diagnosis, in particular through identifying the biological basis of the female protective effect.
---
Arthur Beaudet
received his MD from Yale, did pediatric residency at Johns Hopkins, and was a research associate at the NIH before joining Baylor College of Medicine (BCM) in 1971 where he has remained to the present. Beaudet has made diverse contributions in the field of mammalian genetics including discovery of uniparental disomy in humans, identifying the Angelman syndrome gene, and publishing over 300 original research articles. His current work is focused on investigation of a neuronal carnitine, deficiency hypothesis for autism, development of cell-based methods for noninvasive prenatal diagnosis, oligonucleotide therapy for Angelman syndrome, and genetic causes of intellectual disability, autism, and schizophrenia. Beaudet is a well-known editor of the Metabolic and Molecular Bases of Inherited Disease textbook for the 6th through 8th editions; he has served on many editorial boards and national review panels. He was President of the American Society of Human Genetics in 1998 and was elected to the Institute of Medicine in 1995 and to the National Academy of Sciences in 2011. Beaudet is currently the Henry and Emma Meyer Distinguished Service Professor in the Department of Molecular and Human Genetics at BCM and Texas Children's Hospital in Houston.
---
Steven Hicks
is a physician scientist with training in pediatrics and developmental neurogenetics. He received his MD/PhD from SUNY Upstate Medical University and is currently an assistant professor in the division of academic general pediatrics at the Penn State College of Medicine. Dr. Hicks provides clinical care for children in Penn State's outpatient pediatric clinic and conducts translational research on the epigenetic changes occurring in diseases of childhood growth and development. His current areas of research include autism spectrum disorder, obesity, anorexia nervosa, and traumatic brain injury.
---
Gahan Pandina
is a Senior Director and Compound Development Team Leader at Janssen Research and Development, one of the Janssen pharmaceutical Companies of Johnson & Johnson, in Titusville, New Jersey. Dr. Pandina, a clinical psychologist, leads two teams. The first is focused on developing tools and technologies to optimize novel medication development for Autism Spectrum Disorder (ASD). The second team is focused on developing disease interception approaches for prevention and early intervention in mood disorders. Over the past 15 years at Janssen, Dr. Pandina has served as the clinical leader for several global Phase IIa/IIb drug development programs in psychiatry including, ADHD, schizophrenia & cognition, and mood, anxiety, and sleep disorders. He has worked on three successful Phase III registration programs in schizophrenia and ASD, and conducted a number of Phase IIIB/IV studies in schizophrenia, mood, ADHD, and anxiety disorders. He is an adjunct clinical associate professor of psychiatry at Rutgers-Robert Wood Johnson Medical School in Piscataway, New Jersey, where he teaches in the psychiatry residency and psychology internship programs. Dr. Pandina received his BA degree in psychology from the University of Vermont, and his PhD in clinical psychology from Binghamton University in Binghamton, New York, and completed doctoral fellowships in both neuropsychology and child and adolescent neuropsychology at the Robert Wood Johnson Medical School in Piscataway.
---
Joseph Dougherty
is a neurogeneticist working on understanding the functional consequences of ASD-associated genetic variants. He has a dual appointment in the Department of Genetics and Department of Psychiatry at Washington University in St. Louis where he is an assistant professor. After obtaining an undergraduate degree in psychology at Truman State University in1999 he joined Daniel Geschwind's lab at UCLA for his Ph.D. focusing on high-throughput methodologies for transcript profiling. From there he did a post-doctoral fellowship with Dr. Nathaniel Heintz at the Rockefeller University, where he developed and applied analytical methods for in vivo transcriptomics in mice characterizing cell types frequently associated with psychiatric disease. Since starting his own lab in 2010, his team has focused on coupling human molecular genetic analysis with mouse behavioral genetics and genomics. His group is particularly adept at analyzing consequences of neurogenetic mutations in genes related to regulation of transcription and translation, and has continued to pursue methodological advancements for cell type specific translational profiling and applying this to models of ASD. Joe is thankful for support for this work from NIMH, NINDS, NARSAD NIDA, NHGRI, the Simons Foundation, and a BRAIN Initiative award.
---
Janine LaSalle
is a professor of microbiology and immunology at the University of California, Davis, with memberships in the Genome Center and the MIND Institute. Dr. LaSalle serves as the associate director of genomics at the UC Davis Genome Center. Dr. LaSalle's laboratory focuses on the epigenetics of neurodevelopmental disorders, including autism, Rett, Prader-Willi, Angelman, and Dup15q syndromes. Dr. LaSalle's laboratory uses genomic and epigenomic technologies to investigate the role of DNA methylation and MeCP2 in the pathogenesis of Rett syndrome and autism spectrum disorders. Dr. LaSalle's lab also takes integrative genetic and epigenomic approaches investigating the role of persistent organic pollutants, such as flame-retardant PBDEs and long-lived PCBs, on the developing brain methylome. Dr. LaSalle serves as chair of the Genes in Health and Disease study section for the NIH, is on the editorial board of the journals Human Molecular Genetics, Molecular Autism, and Environmental Epigenetics, and is on the scientific advisory boards of the International Rett Syndrome Foundation and the Dup15q Alliance.
---
Weirui Guo

received his PhD in biochemistry and molecular biology from Institute of Biophysics, Chinese Academy of Sciences (CAS) in Beijing, China, where he worked on molecular and cellular mechanisms of neural development and neurodegeneration. Upon graduation in 2010, he conducted postdoctoral research in Dr. Kimberly Huber's Lab in UT Southwestern Medical Center at Dallas, where he focused on understanding the molecular mechanisms of mGluR5 dysfunction in a mouse model of Fragile X Syndrome. Dr. Guo's research aims to understand how the dysregulation of postsynaptic scaffolding proteins contributes to synaptic dysfunction and phenotypes in Fragile X Syndrome and autism.
---
Randall Carpenter
has over 25 years of leadership experience in academics, medicine, research and pharmaceutical drug development. He is currently Chief Scientific Officer of the Rett Syndrome Research Trust and Executive Vice President Clinical Development for Motion Intelligence, Inc. Most recently, he founded Seaside Therapeutics to translate basic science discoveries into novel therapeutics for autism, fragile X syndrome and intellectual disability. While in industry, he led translational medicine teams responsible for 8 successful IND submissions and over 60 GCP-compliant clinical trials. Prior to joining industry, his academic focus was in translational medicine. Dr. Carpenter is currently a Research Affiliate in the Department of Neuroscience at MIT, a member of the Scientific Advisory Board of EU-AIMS and a member of the External Advisory Board for the Translational Neuroscience Center at Boston Children's Hospital.
---
Brian Howell
earned his Ph.D. from McGill University where he became interested in cell-cell communication (signal transduction). During his post-doctoral training in Dr. Jonathan Cooper's lab at the Fred Hutchinson Cancer Research Center in Seattle, he identified the Dab1 protein and showed that it is a key molecule on the Reelin signal transduction pathway, which regulates the positioning of neurons during development. As an independent investigator at the National Institute of Neurological Disorders and Stroke, he continued to elucidate the details of how the molecules involved in the Reelin pathway regulate brain development. Soon after joining the Department of Neuroscience and Physiology at SUNY Upstate Medical University, he became interested in how mutations in the Reelin encoding gene RELN, which had been identified in genetic screens of individuals with ASD, might regulate social and repetitive behaviors. His group has found that mutations in RELN from ASD patients have properties that are predicted to reduce its normal function and augment abnormal processes in the nervous system. Their current work is aimed at modeling these the effects in mice and determining if other genetic and environmental risk factors synergize with RELN mutations to cause behavioral perturbations.
---