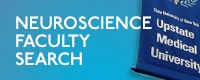 One of many research initiatives in assistant professor Rick Matthews' lab focuses on the role of extracellular matrix and cell surface glycoproteins in the developing nervous system and in learning, memory, plasticity and diseases. This slide shows extracellular matrix (ECM) staining on a glioma initiating cell.
Neuroscience Program Faculty
Burk Jubelt, MD
5820 Upstate University Hospital - Downtown Campus
750 East Adams Street
Syracuse, NY 13210
315 464-8668
Current Appointments
Hospital Campus
Clinical Section Affiliations
Neurology: Multiple Sclerosis/Neuro-Immunology
Research Programs and Affiliations
Biomedical Sciences Program
Neurology
Neuroscience Program
Research Pillars
Web Resources
Education & Fellowships
Fellowship: Johns Hopkins University School of Medicine, 1979, Virology/Immunology
Residency: Presbyterian Hospital, Columbia University, 1976
MD: University of Kansas School of Medicine, 1972
Previous Appointments
Northwestern University Medical School, 1979–1989
Clinical Interests
Immune Response to CNS virus infections; Growth Factors for Post-Polio Syndrome; Immune-mediated diseases; Treatment of Multiple Sclerosis
Education Interests
How to take an accurate Neurological History; How to do an accurate Neurological Exam; MRI scans
Research Interests
CNS acute and chronic polio- and entero-virus infections; Growth factors for Post-Polio Syndrome; Treatment of Multiple Sclerosis; Amyotrophic Lateral Sclerosis (ALS) Motor Neuron Gene Expression
Clinical Trials
A 12-month, randomized, rater- and dose-blinded study to compare the efficacy and safety of fingolimod 0.25 mg and 0.5 mg administered orally once daily with glatiramer acetate 20 mg administered subcutaneously once daily in patients with relapsing-remitting multiple sclerosis
Read more
A Phase 2 Randomized, Double-Blind, Placebo-Controlled Study to Evaluate the Safety, Tolerability and Activity of Ibudilast (MN-166) in Subjects with Progressive Multiple Sclerosis
Read more
Specialties & Certification
Diseases & Conditions Treated
Multiple Sclerosis (MS)
Post Polio Syndrome
Associations/Memberships
American Academy of Neurology (AAN)
American Neurological Association
Current Hospital Privileges
Upstate University Hospital
Crouse Hospital
VA Medical Center
HealthLinkOnAir Radio Interview
2/27/13 Research study to develop a new medical treatment for multiple sclerosis (MS)
Web Resources
Research Abstract
Post-Polio Syndrome(PPS) in the Mouse. We have developed a model of PPS in the mouse in order to analyze pathogenesis and try different modalities of treatment. The growth factors GDNF and IGF1 have resulted in improved strength of the Post-Polio mouse.
Amyotrophic Lateral Sclerosis (ALS) Motor Neuron Gene Expression. Motor neurons have been isolated from autopsy spinal cords of ALS patients and controls. RNA has been isolated from these motor neurons and cDNA libraries have been constructed. Subtraction of these libraries has begun in an attempt to identify motor neuron specific genes and gene products.
Multiple Sclerosis Treatment. Mechanisms of action of present MS disease modifying agents. Development of new disease modifying agents.
References:
1. Christophi GP, Christophi JA, Gruber RC, Mihai C, Mejico LJ, Jubeltb. Quantitative differences in the immunomodulatory effects of Rebif and Avonex in IFN-B 1a treated multiple sclerosis patients. J Nourol Sci 2011; 307: 41-45.
2. Jubelt B, Mihai C, Li TM, Veerapaneni P. Rhombencephalitis / Brainstem Encephalitia. Curr Neurol Neurosci Rep 2011; 11:
3. Kister I et al. Rapid disaese course in African Americans with multiple sclerosis. Neurology 2010; 75: 217-223.
4. Jubelt B et al. Retrograde viral delivery of GDNF and IGF1 prevents the development of late weakness (Post-Polio Syndrome) in a mouse model. Neurology 2009 (suppl 3):A362.
Clinical Profile Shortcut: http://www.upstate.edu/findadoc/jubeltb
Faculty Profile Shortcut: http://www.upstate.edu/faculty/jubeltb
---
Additional Collaborators
Paul Gold, PhD
Professor, Biology (Syracuse University)


Research Interests:

Aging, Cell Signaling and Communication, Learning, Memory, and Plasticity, Neurological and Psychiatric Conditions.
James Hewett, PhD
Associate Professor, Biology (Syracuse University)


Research Interests:

Neuroscience and Central Nervous System Neurobiology and Pathology: Neuromodulators and Epilepsy: Arachidonic Acid Metabolism and Cyclooxygenase-2: Cytokines and Interleukin-1beta: Signal Transduction and Gene Expression.
Sandra Hewett, PhD
Professor, Neuroscience, Biology (Syracuse University)


Research Interests:

Mechanisms underlying cell death in the central nervous system: the interplay between excitotoxicity and inflammation.
Donna Korol, PhD
Associate Professor, Biology (Syracuse University)


Research Interests:

Neural mechanisms of learning and memory across the lifespan.
Katharine (Kate) Lewis, PhD
Associate Professor, Biology (Syracuse University)


Research Interests:

Specification and patterning of spinal cord interneurons; Formation of functional neuronal circuitry; Evolution of spinal cord patterning and function; Dorsal-ventral neural tube patterning; zebrafish development.