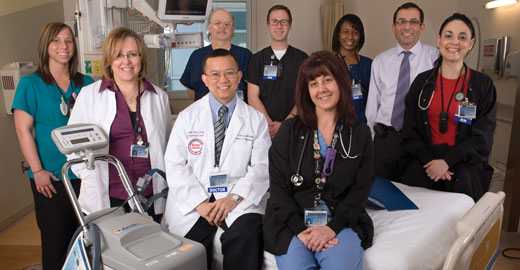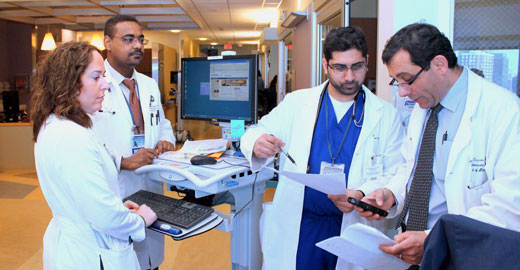 Neurocritical Care
The Neurocritical Care Service of the Department of Neurology at Upstate Medical University is the only one of its kind in the region, serving Central and Upstate New York.
The Neurocritical Care Team
Three full-time board-certified, fellowship-trained neuro-intensivists
Two licenses nurse practitioners
Clinical research coordinator
Two neurocritical care fellows
Rotating neurology residents
Comprehensive and Advanced Care
We work closely in a multidisciplinary framework with our Stroke Neurologists, Neurosurgeons, Emergency Physicians, Trauma surgeons, Endovascular Neuroradiologists, Neurorehabilitation specialists, critical care nurses, respiratory therapists and case managers to deliver comprehensive and holistic patient care.
Our neurocritical care team delivers one of the most advanced diagnostic and therapeutic patient management in the country. Patients with acute brain injury requiring critical care, including patients with large ischemic stroke, intracranial hemorrhage, subarachnoid hemorrhage, traumatic brain injuries, status epilepticus, meningo-encephalitides, acute coma, are treated and monitored using state-of-the-art equipment designed to detect the onset or development of impending or worsening secondary brain injuries.
Continuous EEG monitoring, intraparenchymal pressure and brain tissue monitoring, external ventricular intracranial pressure monitoring, non-invasive cardiac hemodynamic monitoring and near-infrared spectroscopy monitoring, to name a few, are used routinely in our patient management. We also use therapeutic hypothermia (target core body temperature of 33 degrees C) in selective brain preservation strategies.
Neurocritical Care Physicians