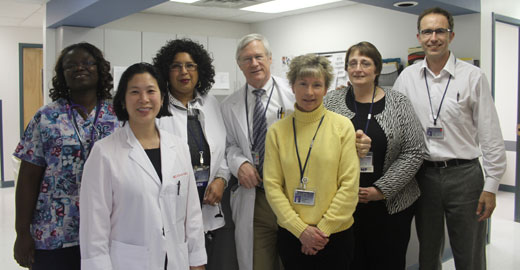 Multiple Sclerosis and Neuro-Immunology
The Multiple Sclerosis (MS) division of the Department of Neurology at Upstate Medical University provides diagnostic and management services for adults and older children with MS, possible MS, other demyelinating diseases (e.g. transverse myelitis, acute disseminated encephalomyelitis, neuromyelitis optica) and related disorders (e.g. sarcoid, vasculitis, CNS auto-mmune diseases.
State-of-the-art neuro-imaging (especially MRI) assists with accurate diagnosis as well as aiding MS management. Not only do we provide the latest in MS clinical care, but we also are actively engaged in clinical and translational MS research.
Our clinical research includes experimental clinical trials and epidemiological studies. Our translational research involves studying the mechanisms of MS disease development as well as the mechanisms of action of disease modifying agents.
Our team consists of three full-time board certified, fellowship-trained MS neurologists, a nurse practioner, a nurse, a clinical research coordinator, medical office assistants, and administrative assistant.
Multiple Sclerosis and Neuro-Immunology Physicians
Useful Links