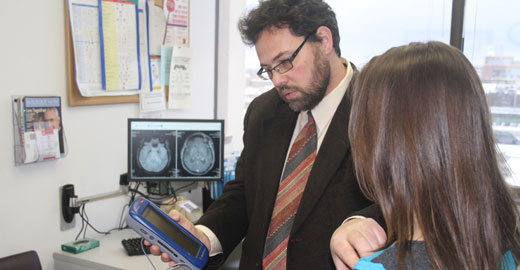 Movement Disorders
The Parkinson Disease and Movement Disorders Program at Upstate Medical University offers comprehensive care for a variety of movement disorders.
Our team of medical professionals includes a board-certified, fellowship-trained movement disorders neurologist, a nurse practitioner, nurses, administrative assistants and medical office assistants with experience in management of patients suffering with Parkinson's disease, tremor, dystonia, tics, myoclonus, Huntington disease and other choreas, as well as dementias associated with movement disorders.
In collaboration with our colleagues from functional neurosurgery, we have developed a successful movement disorders surgical program that offers deep brain stimulation (DBS) treatment and post-surgical management for patients with Parkinson's disease and essential tremor.
We offer specialized treatment with botulinum toxin injections for dystonia and spasticity, and apomorphine injections for Parkinson's disease. We work closely with specialists in genetics, radiology, PM&R, psychiatry, and our pediatric neurologists to provide compassionate care and treatment not only for adults but also for children afflicted by movement disorders.
We have also a strong interest in clinical research and we work closely with basic scientists from our institution and from other institutions in the region and nationally, to understand the underlying causes of movement disorders and develop effective treatments.
Movement Disorders Physicians
Useful Links