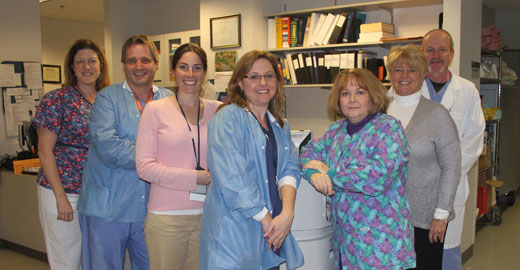 Amyotrophic Lateral Sclerosis
The ALS Research and Treatment Center provides comprehensive, multidisciplinary care for patients with ALS and related motor neuron diseases. The Center is located at UHCC and sees patients on a weekly basis.
Dr. Jeremy Shefner is the ALS Center director. He has been involved in ALS care and research for more than 20 years and is founder and Co-Chair of the Northeast ALS Clinical Trials Consortium (NEALS).
We provide patients with comprehensive care involving multiple specialties, so that patients can receive many services at one visit. We are the largest ALS Center in New York outside of New York City, and are a referral center for central and western New York State. In addition, we are one of only a handful of centers that have received certification by both the Muscular Dystrophy Association and the ALS Association. The Center is nationally recognized for its research into possible treatments for ALS, and patients are given the opportunity to participate in a variety of clinical trials.
ALS Physicians
The ALS Clinic team includes:
Physicians
Service coordinator
Occupational therapist
Social worker
Speech and language specialist
Respiratory therapist
Physical therapist
Dietician
Nurses
Administrative assistants
Muscular Dystrophy Association representatives
ALS Association representatives
Useful Links