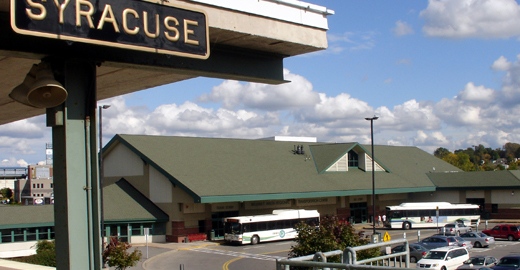 Hotel and Travel Information
Syracuse is easily accessible by a variety of transportation means. It is located at the crossroads of two major interstate highways, I-90 (east-west) and I-81 (north-south). Syracuse's Hancock International Airport is served by six major airlines with approximately 200 passenger flights arriving and departing daily.
Greyhound and Trailways provide inter-city, inter-state bus service passenger service while CENTRO services the city and suburban areas. Amtrak provides rail passenger service to and from the William F. Walsh Regional Transportation Center.
Note to Applicants: We are not able to make arrangements for accommodations for each of you, but we would like to suggest Genesee Grande Hotel at 1060 East Genesee St. also offer a reduced room rate and complimentary shuttle service (check with them regarding hours of shuttle) to and from Hancock International Airport, Bus Station, Train Station. 
To make a Phone Reservations, please call: 1-800-365-4663. Please state that you are a Medical  Interview Student/Resident.
You will need the following information:
Name
Arrival and departure date
Phone number
Address
Transportation needs flight, bus, train
Time of arrival and what carrier
Credit card number and expiration date
If you are driving to the interview, please use the Visitor Parking Garage across the street from the Hospital. We will provide you with a parking pass to get out of the garage free of charge at the end of the day.