DIRECTOR'S MESSAGE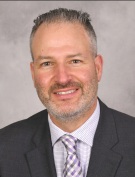 Stephen J. Knohl, MD
Program Director

Welcome to SUNY Upstate Medical University's Internal Medicine Residency Training Program. Read more...
Content
Frequently Asked Questions
How do I apply for a PGY-1 position?
Applications are accepted via ERAS (Electronic Residency Application Service)

only. We do not accept paper applications. For more information on how to apply via ERAS, please visit the ERAS website.
How do I find your program?
We will participate in the NRMP (National Resident Matching Program)

.
Our programs are listed as follows:
SUNY Upstate Medical University "Categorical" (NRMP #1516140C0)
SUNY Upstate Medical University "Preliminary" (NRMP #1516140P0)
What's the application deadline?
The application deadline is November 1, 2015.
Does your program accept International Medical Graduates (IMG's)?
Yes, qualified International Medical Graduates are encouraged to apply.
What qualifications do I need to apply?
Residency applicants must have one of the following qualifications:
Graduates of medical schools in the United States or Canada must have attended a medical school accredited by the Liaison Committee on Medical Education (LCME).
Graduates of U.S. colleges of osteopathic medicine must have attended a medical school accredited by the American Osteopathic Association (AOA).
Graduates of medical school outside the United States and Canada must have a current valid ECFMG Certificate and passing grade in the CSA examination from the Educational Commission for Foreign Medical Graduates. *Being ECFMG Certificate "eligible" pending Medical School Diplioma will suffice.
What USMLE scores do I need to be considered?
We require a 1st-attempt pass on all USMLE steps.
Do you require USMLE Step 3?
Passing Step 3 is not a requirement to apply to our program, however if a Step 3 score is available it must reflect a 1st-attempt passing score.
Will my application still be considered if I don't pass on one of my initial USMLE exam attempts?
We request passing scores on all steps of USMLE on the first attempt.
Do you require a valid ECFMG Certificate prior to being granted an interview?
Preference is given to those whose files are complete (Step 1, 2CK and 2CS, ECFMG Certificate) prior to the 11/01/15 deadline. *Being ECFMG Certificate "eligible" pending Medical School Diplioma will suffice.
Do you have a Medical School Graduation Date cut off?
Preference is given to those that have graduated within four years of the anticipated training start date, however the committee will take into consideration what the applicant has been doing since graduation from Medical School if more than four years.
Do you have any additional requirements that should be included with my application?
An updated CV and personal statement
Medical School transcript
Dean's letter (MSPE)
Letters from three additional members of the faculty (if applying for the Categorial track, one of the letters should be from the Chair of Medicine).
What visa type is offered for PGY-1 residents?
We will sponsor J1 Visa, Permanent Resident, EAD, (H1B Visas & J2 Visas will not be sponsored).
Do you sponsor H-1 visa?
No, we do not. As mentioned previously, we will only sponsor J-1 visa.
Do you require US clinical experience?
US clinical experience is preferred.
Do you offer any Observership or Externship opportunities at your institution?
The Department of Internal Medicine at Upstate Medical University is happy to offer an Observership Opportunity. Please check our our Observership Policy and email observer@upstate.edu if you have additional questions.
When are interviews scheduled?
From late October through mid-January.
The Intern Selection Committee will extend interview invitations only after reviewing completed applications. We will contact interviewing candidates (by email) as early as possible to permit suitable travel planning.
What is your policy on rescheduling a previously scheduled interview?
Due to the complexity of the schedule, it is near impossible to reschedule an interview date once it is confirmed. We ask that applicants take special care in picking their interview dates, in order to avoid having to request a change. However, if an emergency arises such that it is necessary to change your interview date, we will do everything we can to accommodate you on a different interview day.
What if I can't interview on one of the scheduled dates?
Email the program administrator. As stated above, in exceptional cases, including personal hardship, alternate visits may be available.
What should I do if I am unable to honor my scheduled interview?
Email the program administrator as soon as you are aware of your need to cancel your interview. This will allow the interview spot to be filled with another candidate on the waiting list.
Will I be notified if the committee decides not to offer me an interview?
Every attempt is made to contact applicants via email regarding the status of their application as soon as a decision is made. NOTE: This may take some time due to the number of applications received. Unless you have received a rejection letter, you are still being considered for an interview and your file may be on hold for further review.
When should I contact you to check the status of my application?
There is no need to contact us regarding the status of your application. Although we would appreciate the opportunity to converse with you directly regarding your academic accomplishments, it is impossible to speak with individual applicants due to the enormous number of applications received. We ask that you wait for an email from us which will happen once a decision has been made on your application.