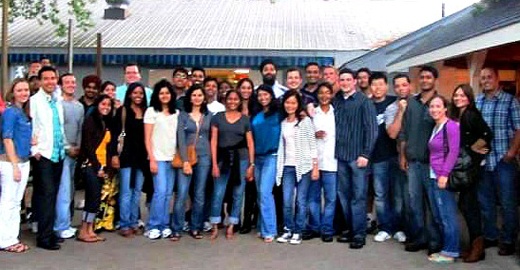 Welcome Picnic
As a celebration of the arrival of the new interns, we host a Welcome Picnic. This picnic is designed to welcome all incoming housestaff, including interns and fellows, and the entire Department of Medicine is encouraged to attend. This is done during Orientation Week to allow everyone the opportunity to meet prior to July 1st, the start of the new academic year! Everyone is welcome, and encouraged to bring their entire family!
A few years back, we were lucky enough to stumble upon The Spinning Wheel Restaurant

, conveniently located about 15 minutes north of the city of Syracuse. The spacious and beautiful outdoor grounds, combined with the spacious indoor dining area, make this the perfect venue for a great picnic… rain or shine!
The picnic would not be complete without games and other fun things! Don't be shy…join a game of volleyball in the sand court, challenge your colleagues to a game of horseshoes, join in a game of cricket, or try your skills at kickball… a favorite among the younger crowd! Pick a partner and meet us out in the field for the annual water balloon fight, I mean toss! Just beware, if there are balloons left over, they tend to get thrown and everyone is fair game! Don't forget to get your raffle ticket for the drawings… everyone likes to win stuff!! We have face painting for the younger kids and small picnic toys for them to enjoy! You might want to practice your "do re mi", as we have added Karaoke Joe to our annual must haves at the picnic, and you may think you don't want to sing, but be warned, the fun is contagious! Last year Dr. Knohl started the singing by dedicating "Welcome To The Jungle" to the incoming interns! After that, the requests were flying in… the microphones got quite a workout… and the singing was non-stop until the end of the picnic!
This year's picnic is scheduled for Sunday, June 24th, and we hope to see you there!
Highlights for
Incoming Residents