DIRECTOR'S MESSAGE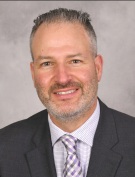 Stephen J. Knohl, MD
Program Director

Welcome to SUNY Upstate Medical University's Internal Medicine Residency Training Program. Read more...
Content
Lectures and Conferences
Core Curriculum Lecture Series
Central to the educational experience at SUNY Upstate at Syracuse is the Core Curriculum lecture Series which runs nearly every day of the week from 12:151pm in Weiskotten Hall 103. The content of this lecture series includes grouped conferences on each specialty of medicine (for example, 3 weeks in a row on Cardiology, 3 weeks in a row in Pulmonary, etc.) as well as talks on medical emergencies (during the summer months) and extra-clinical issues (i.e. medical billing and coding, health-care systems, contract negotiations, etc.) Furthermore, we ask the PGY-1s to present a 20-minute talk on an assigned topic. Lastly, Program Directors Conference and the Monthly Housestaff Business Meeting will occur during this time. As we understand that not all housestaff can attend every conference, lectures are videotaped and uploaded on to Blackboard for review at any time.
Journal Club
All residents participate in a weekly seminar (Tuesday 7:00-7:45am) in which they critically review important journal articles as well as learn biostatistics.
Intern Report
The PGY-1s participate in a monthly Morning Report (Last Friday of every month 7:00-7:45) that is specifically geared to their level of training. Cases will be presented and dissected in great detail. Intern Report is run by the Chief Residents.
Noon Report
Morning Report runs every morning from 78am except Thursdays, both at UH and the VA. The residents on inpatient teams attend the report and present cases supervised by a chief resident and a faculty member. Apart from a case discussion, board questions are also reviewed daily. Every 2 weeks, on Friday mornings, there is a joint EM-IM report in which ED residents and faculty also present cases.
Power Rounds
Every Thursday morning, from 7:158am, the members of The Department of Medicine (faculty, housestaff, and students) come together at Power Rounds in which specialty-specific topics, cutting-edge research, and clinico-pathologic conferences (CPCs) will be presented. Members of the Upstate faculty as well as invited speakers from around the country are invited to speak. New for 2010, we are also moving our PGY-3 Senior Thesis to Power Rounds in which the senior residents will be charged with presenting a Grand Rounds-style topic in 20 minutes. Upstate Medical University designates this continuing medical education activity for 1 credit hour in Category 1 of the Physician's Recognition Award of the American Medical Association.
Senior Thesis
The third year residents are required to present a topic to the Chair of the Department of Medicine, interested faculty and his/her peers during their third academic year. These are of "Grand Rounds" caliber and the topic is selected by the resident and requires approval of the educational programs office. The Chief Residents assist with the selection of an appropriate topic and audio-visual needs. These will be presented during Power Rounds
Intern Presentations
The interns present a clinically relevant topic once in a year in the noon conference. This gives them an opportunity to enhance their skills in gathering evidence and critically analyzing it. It also helps them familiarize themselves to a certain extent with the format of chairmans rounds.
Quality Improvement:
Once a month, a resident presents a case which is a near miss or in which an adverse event happened/could have happened and there is a discussion involving root cause analysis and steps to prevent similar morbidity/mortality in the future.
Graduate Medical Education Lecture Series
These are held from 3:454:45pm and are open to all residents and fellows. The attendance is not mandatory but is encouraged. Topics include medical ethics, palliative care, medical decision making, residents as teachers, bioinformatics, research design, biostatistics, critical literature analysis and medico legal matters.
Division-Specific Conferences
Each division within the Department of Medicine has weekly conferences and meeting that are open to all members of the Department and Upstate community Please see each divisions website for further information.