The MD/PhD Program at SUNY Upstate Medical University has approximately 26 students who are in various stages of their training. You can learn about these individual students and their research interest by selecting the link to current students on this page.
Our students receive individual attention from the co-directors of the MD/PhD Program and other faculty members. SUNY Upstate works diligently to be sure each student receives assistance whether it be academic advising, help with scheduling, selecting a laboratory, or figuring out finances. Visiting applicants cited the friendliness of students and staff as one of our most appealing features.
PhD Students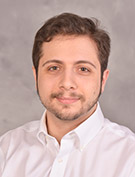 Research Interests
I joined the MD/PhD program at Upstate in 2017. I am a graduate of Queens College CUNY, receiving a bachelor's degree in both neuroscience and philosophy in 2016. I was drawn to the MD/PhD route because of my interest in pursuing fundamental questions of biology and biomedical science, as well as my desire to treat patients.

I originally applied to Upstate primarily because of the excellent Center for Vision Research here. During my interview, however, I found that Upstate had more to offer me as an MD/PhD student. Everyone, from faculty to students, was incredibly friendly and welcoming. I knew that Upstate would be a supportive and nurturing place for me as a student. My first rotation is in the lab of Dr. Barry Knox. Outside of academics I enjoy reading (mainly philosophy and history books), painting, drawing, and playing my guitar and drums.