The MD/PhD Program at SUNY Upstate Medical University has approximately 26 students who are in various stages of their training. You can learn about these individual students and their research interest by selecting the link to current students on this page.
Our students receive individual attention from the co-directors of the MD/PhD Program and other faculty members. SUNY Upstate works diligently to be sure each student receives assistance whether it be academic advising, help with scheduling, selecting a laboratory, or figuring out finances. Visiting applicants cited the friendliness of students and staff as one of our most appealing features.
PhD Students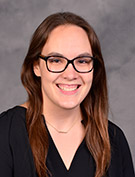 Research Interests
I started the MD/PhD program at Upstate in 2012 after graduating from Hofstra University in 2011 where I majored in biochemistry and minored in music. My undergraduate research at Hofstra and a summer of research here at Upstate as a SURF student were key in my decision to pursue a combined MD/PhD degree as opposed to going to medical school.

I am doing my thesis work in the lab of Dr. Mehdi Mollapour in the Departments of Urology and Biochemistry & Molecular Biology. My project is focused on characterizing new co-chaperones of the essential molecular chaperone Hsp90 that we have recently identified and examining how their co-chaperone function and stability are regulated by post-translational modifications. Working in the Department of Urology has been a major asset and has allowed me to really integrate my clinical and basic science training.

Outside of the lab I enjoy spending time with friends and family as well as my dog, Winston, and taking advantage of everything Syracuse has to offer. There are plenty of outdoor activities, including hiking and kayaking, restaurants, the regional farmer's market, seasonal activities like apple picking, and theatre to occupy my free time.