Tri-Institutional Research Conference
Approximately every 18 months the MD/PhD students from SUNY Upstate Medical University, the University of Rochester, and the University at Buffalo gather to hear student research presentations, present posters of their current research, and discuss topics of common interest.
Tri-Institutional Conference 2015 will now be the American Physician Scientist Association Northeast Regional Meeting: October 17, 2015
This year's conference has now been transformed from the Tri-Institutional Conference between Upstate, University of Rochester, and University of Buffalo to the American Physician Scientist Association Northeast Regional Meeting.  Dr. Andy Minn, MD/PhD from the University of Pennsylvania and Dr. Doug Kwon, MD/PhD from Harvard Cancer Center will be our keynote speakers along with many valuable workshops on residency, research collaborations, work/life balance and more. View more information and register

for this conference. 
Past Conference: April 2nd, 2011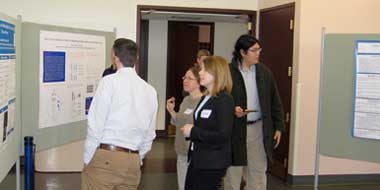 Students view research posters.
Our Guest Speaker was Dr. Jeremy Schefner, MD/PhD, Professor and Chair Department of Neurology, and Associate Vice President for Clinical and Translational Research, Upstate Medical University.
The title of his talk was:
New Treatment Strategies for Amyotrophic Lateral Sclerosis
Our students also participated in a round table discussion with the students from Buffalo and Rochester. This is a wonderful opportunity for our students to meet fellow MD/PhD students and learn of the translational research being conducted in the Upstate New York area.