MD/PhD Program Admissions
Contact:
MD/PhD Program Office
Phone:
315 464-7719
OR
866 388-3956
Location:
Room 3104 Weiskotten Hall
SUNY Upstate Medical University
750 East Adams Street
Syracuse, NY 13210
Email:
MDPHD@upstate.edu
General Information
Each year the MD/PhD Program receives over 100 applications for approximately 5 positions in the entering class. Applications are accepted from U.S. citizens, permanent residents and foreign citizens who have completed at least 90 semester hours of coursework in the United States or Canada at an accredited institution.
The Admissions Committee reviews all applications and uses all available information to determine an applicant's qualifications for the study and practice of medicine. This is done without regard to sex, sexual orientation, race, color, creed, age, national origin, disability, veteran status or marital status.
Beginning Fall 2010, SUNY Upstate Medical University will require background checks for all accepted College of Medicine students. More information on background checks may be found at the AAMC website.

To Complete an Application:
Submit a verified AMCAS application by October 15th. Be sure to check the box indicating that you are applying to the MD/PhD Program.
Submit Medical College Admission Test (MCAT) scores to AMCAS by October 15th.
Submit three original letters of recommendation applicable to the MD/PhD Program from those familiar with the applicant's academic record and potential for investigative research.
Submit a SUNY Upstate Medical University Secondary Application by December 1st. Once our admissions office receives your verified AMCAS application we will forward you instructions on how to access our secondary application.
Submit a non-refundable application processing fee of $110 by December 1st.
It is the responsibility of the applicant to make certain that all materials are received by our office prior to the appropriate deadlines. If an applicant decides to withdraw their application, we do require that they notify our office, in writing, as soon as possible.
Your SUNY Upstate secondary application signature page (which is available once you submit your on-line secondary application) and $100 application fee should be sent directly to the following address:
SUNY Upstate Medical University
Office of Student Admissions
1215 Weiskotten Hall
766 Irving Avenue
Syracuse, NY 13210
MCAT Policy
SUNY Upstate Medical University will:
ONLY accept MCAT's taken within the 3 years prior to application
ONLY consider scores that are received prior to our December 1st application deadline
Not hold applications for January test scores
Not re-review an application once the admissions committee has made a decision on an applicant
Application Deadlines
AMCAS:
Applications must be submitted to AMCAS by
October 15
Upstate:
Applications to the College of Medicine must be complete by
December 1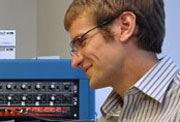 Sam Mackenzie

"I like the research process, and I want to make that part of my career," said Sam Mackenzie, whose mentor is Blair Calancie, PhD, professor of neurosurgery. "I picked this lab largely because of the human subjects component to it, in that I like the element of working with patients and integrating that with more basic research." Mackenzie is working on developing a model to repair acute injuries to the cauda equina, a collection of nerve roots in the lower portion of the spine. "I would like to continue studying movement disorders in the future," he said.