Great Reasons to Choose Upstate!
Outstanding Research
Daily Interaction with Faculty Research Advisor
Well-Funded, Modern Labs
Tuition Waiver and Competitive Stipend
Affordable Cost of Living
State-of-the-Art Library
Seminar Series and Journal Clubs
Basic Science and Clinically-Oriented Research
Comprehensive Core Curriculum
Formal Training in Grant Writing
Travel Money for Meetings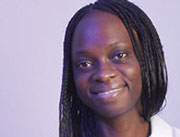 Seye Adekeye
PhD
Seye Adekeye completed the PhD phase of the MD/PhD program in the Department of Biochemistry and Molecular Biology, studying retinal degeneration. While working in the lab of Principal Investigator Barry Knox, PhD, Seye received a fellowship from Fight for Sight, a not-for-profit that provides promising scientists with funding for eye and vision research.
"I have thoroughly enjoyed this experience," Seye said. "I look forward to the last two years of medical school and applying to a research-oriented residency program."

Download the
MD/PhD 2014-15 Brochure
.