About the MD/PhD Program
All accepted students receive a tuition waiver and a stipend of $24,513 for each year of their training.
Students enrolled in the MD/PhD Program at SUNY Upstate Medical University will receive training in both medicine and basic scientific research.
Graduates of this program receive a dual degree, the MD/PhD degree. Our graduates go on to careers as physician scientists, combining their knowledge of basic research and clinical practice to enhance the treatment of disease, very often in an academic setting.
This program is structured so that entering students complete the first two years of the Medical School curriculum, participating in research activities during the summer. Students then select a laboratory for their doctoral research and complete their PhD thesis before returning to Medical School for their 3rd and 4th years of clinical training.
---
Dan Tylee
SUNY Upstate Medical University does not discriminate on the basis of race, sex, sexual orientation, color, creed, age, national origin, disability, marital status or veteran status in the recruitment and employment of faculty or staff; in the recruitment of students, or in the operation of any programs or activities, as specified by federal and state laws and regulations. For more information contact: Office of Diversity & Affirmative Action, 711 Jacobsen Hall, 315 464-5234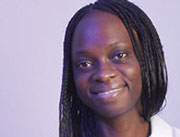 Seye Adekeye
PhD
Seye Adekeye completed the PhD phase of the MD/PhD program in the Department of Biochemistry and Molecular Biology, studying retinal degeneration. While working in the lab of Principal Investigator Barry Knox, PhD, Seye received a fellowship from Fight for Sight, a not-for-profit that provides promising scientists with funding for eye and vision research.
"I have thoroughly enjoyed this experience," Seye said. "I look forward to the last two years of medical school and applying to a research-oriented residency program."

Download the
MD/PhD 2014-15 Brochure
.