Wellness Walkers
A group meets in the hospital lobby of the circle driveway of UH at 12 noon. A list, maps and distance of indoor and outdoor walks are listed on this website under the topic "trails". To get on an email notifcation of walking events email brisks@upstate.edu.
Monday Mile
The Monday Mile is a fun way to get in your daily exercise, it easily works into your schedule and helps to jump start your week. The weekly exercise recommendation is 150 minutes per week, that's just 30 min a day. So grab a buddy and get yours in with friends and co-workers. For more information visit healthymonday.syr.edu or view the Wellness calendar for specific event details.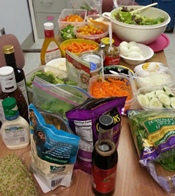 Healthy Salad Bowl Luncheon
A "Healthy Salad Bowl Luncheon" is an easy way to organize a luncheon for a small or large group of people. Employees who want to participate are encouraged to bring an ingredient for a salad bar. Scheduled on a weekly or monthly basis, these are great ways to skip the fast foot lunch and have a healthy inexpensive lunch with co-workers. Here is a guide to planning your own Healthy Salad Bowl Luncheon .
Smoking Cessation
For Employees, Contractors, Students, Residents, Volunteers and Staff
Upstate Medical University is a Tobacco Free Campus. Employees, Students and Volunteers can get support to quit smoking. Contact Carolyn Walczak for both  Downtown campus and Community Campus at 464-3519. Carolyn provides coaching and 8 weeks supply of gum/lozenges or patches to support you as you quit. For more information visit the Smoking Cessation Program.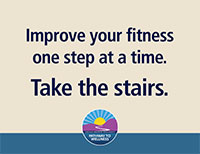 Take the Stairs
This program encourages everyone to get more activity into their day. Inactivity increases health risks. Taking the stairs is a great way to build more activity into your busy day.
Meditation
Want more options?
Crossing the Bridge to Health by Penny H. Baron, PHD is available for take out at the Upstate Medical Library. It is a creative and symbolic Journey with Guided imagery and experiences to enhance your health and well-being. Available as a book or CD.
Send Us Your Program Ideas

If you have an idea for a program that you would like to offer as part of Pathway to Wellness, or if you would like to ask Pathway to Wellness to be a part of an event you are planning please fill out the form below. Return form to Suzanne Brisk or Brisks@upstate.edu. Ideas and invites will be submitted to the committee for approval.