Last Out, Lights Out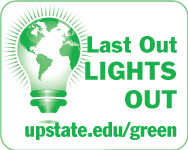 If your department did not receive the Last Out, Lights Out stickers shown above, please email Shari Ryan to have stickers mailed to you.
The stickers you may have noticed on nearby light switches may be small, but they carry a powerful message — Last Out, Lights Out.
With the simple flip of a switch, you can help Upstate save a lot of money. How much?
In a typical office, leaving the lights on overnight during the week wastes $130 a year. Leave them on all weekend, every weekend, and that's another $106 a year. By the way, Upstate has more than 2,000 offices.
One simple action, multiplied thousands of times a day on our campus, can make a huge difference – not just in dollars saved, but in the amount of energy we use as well.
So these stickers are a gentle reminder to you and your Upstate colleagues – if you're the last to leave a room, please turn out the lights.
If you'd like to know more about saving energy costs, please visit our Did you know... page on turning off lights and other electronic equipment not in use.

...every nickel counts! Before you toss that returnable soda or water bottle into any other bin on campus, look for specially marked receptacles featuring the 5-cent bottle sticker.

Read more...
Climate Action Plan
In 2009, Upstate president David R. Smith, MD signed the American College and University Presidents' Climate Commitment (ACUPCC), committing the university to become "carbon neutral" by 2050.
Upstate submitted its first Greenhouse Gas Emissions Inventory in 2010, and began work on a Climate Action Plan

that was completed and submitted to the ACUPCC in May 2011.