Upstate Moves to Eliminate Bottled Water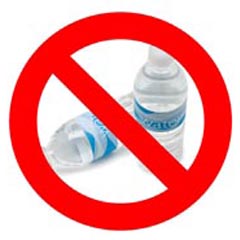 In response to an executive order from Gov. David Paterson stating that bottled water will no longer be allowed as a state expenditure, Upstate Medical University has discontinued the purchase of bottled water using state funds effective July 1, 2009.
The Sustainability Task Force at Upstate is currently in the planning stage to phase out the use of bottled water across campus "A decision such as this involves the concerted effort of our entire campus community," said Tom Pelis, Chair of the Sustainability Task Force.
A subgroup of the task force will work toward a phased approach to eliminating bottled water on campus, and additional communication will be forthcoming.
In the coming months, Upstate will communicate a plan to provide filtered tap water throughout campus. There are already sophisticated filtering systems in place for the entire water supply in University Hospital and the water fountains in the Weiskotten Hall addition.
While a plan is being developed, bottled water will still be available for purchase in our vending machines and at our cafeteria locations. Also, patients in University Hospital who have special health requirements will continue to have access to bottled water.
The termination of bottled water contracts is in line with the university's move toward sustainability and environmentally responsible practices. President David R. Smith, MD, this year joined hundreds of other leaders of academic institutions in signing the American College and University Presidents Climate Commitment

. The commitment affirms Upstate's goal of reducing its impact on climate change through campus-wide and ongoing actions to minimize its carbon footprint.
"As stewards of our environment, this is the right thing to do," said Dr. Smith. "Eliminating bottled water will not only reduce cost and waste for our university, but will impact the downstream effect on our environment."
Upstate Medical University has also become a member of the Association for the Advancement of Sustainability in Higher Education

. AASHE is an association of colleges and universities in the U.S. and Canada working to create a sustainable future.
According to the New York Times, citing an Earth Policy Institute report:3
1.5 million barrels of oil are used to manufacture 29 billion plastic water bottles used each year in the U.S.
About 23 percent of those bottles are recycled; the rest go to landfills and incinerators, or end up as litter.
According to the International Bottled Water Association:
Americans spend about $11.2 billion on bottled water each year.
Each person buys an average of 28.5 gallons.
Gov. Paterson's Executive Order, issued in May 2009, phases out the expenditure of state funds for the purchase of single serve bottles and larger, cooler-sized bottles for water consumed at state agency facilities.
The measure requires each executive agency to develop and implement a plan to phase out expenditures for bottled water by May 1, 2010 and provide alternative water sources such as ordinary tap water fountains and dispensers. Upstate's policy took effect July 1.