...if lined up end-to-end, the K-cup coffee pods sold in 2014 would encircle the equator 12.4 times!
K-cup Landfill
Think Green
Styrofoam Success!
Kudos to the retail food vendors - Morrison, Tim Hortons and Cold Stone Creamery, and Espress Oasis - at Upstate Medical University for minimizing the use of Styrofoam.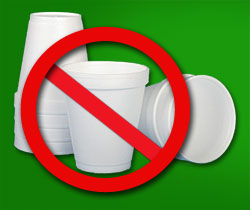 Most recently, Morrison has made significant strides to drastically reduce the use of Styrofoam in its retail locations. Specifically, they eliminated 2 sizes of plates, 3 sizes of bowls, and 3 sizes of cups within their cafeterias. This amounts to approximately 1 million, three hundred and 16 thousand (1,316,000) pieces of Styrofoam a year! Financially, they will spend they will spend approximately $27,000 more a year to provide paper as opposed to Styrofoam.
Tim Hortons and Cold Stone Creamery and Espress Oasis at the University Hospital Downtown Campus have not used Styrofoam in several years.
All three vendors participate in recycling and other sustainability practices. Thanks to all of our partners for responding to customer requests and supporting 'Green' practices!