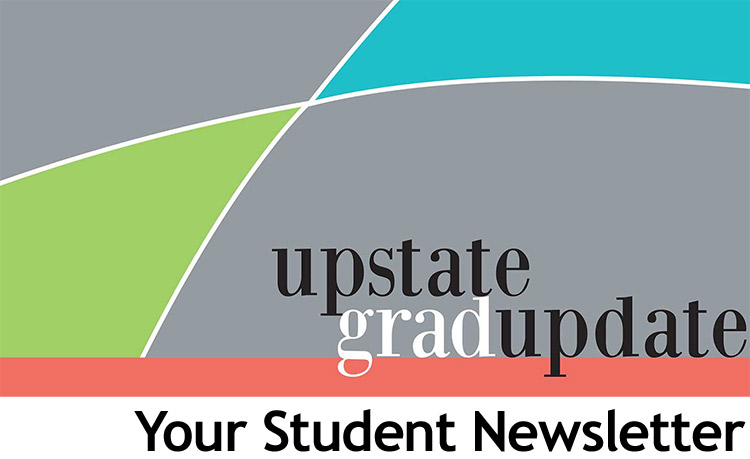 Content
Charles R. Ross Memorial Student Research Day
Friday, April 8, 2016
This annual event highlights the research done by students in all four colleges at SUNY Upstate Medical University: Graduate Studies, Health Professions, Medicine and Nursing. The Student Research Day has become a tradition at Upstate and has developed into a well-respected event that includes a keynote presentation*, student talks** and a poster session with a reception.
1:30 - 2:30 pm: Student Presentations**, 2231 WH
2:45 - 3:45 pm: Keynote Address*, 2231 WH
Student Poster Session and Reception immediately follows in IHP atrium
*Keynote Speaker:
"NK Cells: From Biology to the Clinic"
Michael Caligiuri, MD
Professor of Internal Medicine, Division of Hematology
Ohio State University
CEO, James Cancer Hospital and Solove Research Institute
Director, OSU Comprehensive Cancer Center
**Student Presentations:
Melanie Melewski (College of Health Professions) - "Fall prevention Program Led by an InterProfessional Education Team in an Urban Adult Public Housing Community"
Davia Moss (College of Nursing) - "Participation in Medical Homes Improves Quality of Health Care,Decreases Number of Visits to the Emergency Room"
Marc Seligson (College of Medicine) - "Frailty is Associated with Higher Mortality and Worse Limb Salvage Rates in Patients with Peripheral Arterial Disease"
Patrick Sweeney (College of Graduate Studies) - "Deciphering Stress-Induced Anorexia via a Septohypothalamic Feeding Circuit"
Please contact Jennifer Brennan in the College of Graduate Studies at 464-4543 or brennanj@upstate.edu if you have any questions.