Neuroscience
Contact:
Barry E. Knox, PhD, Chair
Location:
3219 Weiskotten Hall, 766 Irving Ave., Syracuse, NY 13210
Phone:
315 464-4413
Fax:
315 464-7712
Email:
leottan@upstate.edu
Website:
Neuroscience Program
This program awards: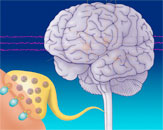 The Neuroscience Graduate Program is a multidisciplinary program divided into three areas:  cell and molecular neuroscience, development and regeneration, and systems neuroscience.
Program research relates to many human diseases and disorders, including fetal alcohol syndrome, spinal cord injury, Alzheimer's, multiple sclerosis, cerebral palsy and amyotrophic lateral sclerosis (ALS).
The cell and molecular neuroscience group the regulation of gene expression in the nervous system, mechanisms of cell signaling and excitability within cells, and the molecular bases of neurological disease and disorders.  The development and regeneration group studies the mammalian cortex, the regulation of gene expression during development and regeneration of the vertebrate retina, and the mechanisms of spinal cord regeneration.
The systems neuroscience group studies the neural mechanisms underlying the functions of the olfactory system, the visual system, and motor systems in health and disease. Students can take advantage of a collaborative neuroscience program with neighboring Syracuse University.
Barry E. Knox, PhD,
Professor and Chair,
Department of Neuroscience
and Physiology