Cell and Developmental Biology
This program awards:
PhD in Anatomy and Cell Biology
MS in Anatomy
Research in the Department of Cell and Developmental Biology explores the molecular and biochemical mechanisms of cellular function and development.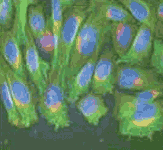 Faculty researchers in the department have funding for fundamental studies of: proteins and structures responsible for the assembly and dynamics of myofibrils; the genetics and cell biology of heart formation; the role of class I myosins in kidney functions; the mechanisms of actin assembly during endocytosis; the role of cell adhesion in regulating the cytoskeleton and cell motility in normal and cancerous cells; integrin regulation of the actin cytoskeleton; research on neural plasticity and spinal cord injury; the role of formins in the assembly of the actin cytoskeleton; the identification of genes important for the assembly and motility of cilia.
Models used in the research include: zebrafish, avian embryos, the alga C. reinhardtii, cell culture lines, C. elegans, the yeast S. pombe, rats and mice. Students and faculty use a variety of research methods including sophisticated light microscopy (laser scanning confocal microscopy, spinning disc confocal microscopy, widefield deconvolution imaging, real-time fluorescence microscopy, TIRF microscopy), high-sensitivity digital cameras and image processing, electron microscopy, tissue culture, stereotactic surgery, and a complete range of molecular and biochemical techniques.
What's the
SUNY Upstate Difference?
Joseph W. Sanger, PhD, professor and chair of the Department of Cell and Developmental Biology, is one of four scientists elected to the first class of fellows of the American Association of Anatomists (AAA).
The honor recognizes Sanger's excellence in science and his overall contributions to the anatomical sciences. Founded in 1888, the AAA represents biomedical researchers and educators who are the primary educators of first-year medical students.
Sanger joined the SUNY Upstate faculty in 2006, after a 35-year career at the University of Pennsylvania. Sanger's research focus is the assembly and dynamics of the cytoskeleton of vertebrate muscle and non-muscle cells. His research is supported by grants from the National Institutes of Health (NIH) and the Muscular Dystrophy Association (MDA).