Academic Office
Campus West Building (CWB)
Rm. 318,
750 East Adams Street
Syracuse, NY 13210
Map & directions
Phone:
315 464-5804
Fax:
315 464-5809
Name:
Nikkole Bladholm, Fellowship Coordinator
Email:
bladholn@upstate.edu
Ronald D. Szyjkowski, MD
Program Director,
Professor of Medicine,
Division Chief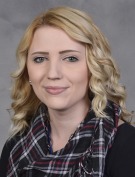 Nikkole Bladholm
Fellowship Coordinator
---
Title of Program
State University Upstate Medical University, Gastroenterology Fellowship Training Program
Sponsor
State University of New York
Participating Institutions
State University of New York Upstate Medical University
Fellowship training in gastroenterology is a three-year program, and successful completion of this fellowship training will allow candidates to be eligible for certification examination in the subspecialty of gastroenterology by the American Board of Internal Medicine.
Read Complete > CURRICULUM OBJECTIVES
The curriculum and objectives are outlined in accordance with program requirements for residency education in gastroenterology, published by the Accreditation Council for Graduate Medical Education (ACGME) in their "Essentials and Information Items", 1996-1997.
Gastro Conference Calendar information may be referenced on page 18.  For additional information on Gastro conferences, please contact the Academic Office @ bladholn@upstate.edu