Target Population
The Central New York ADAC serves 15 counties with an approximate land area consisting of 16,000 square miles. Cities within this area include Syracuse, Binghamton, Watertown, and Utica.
The 15 counties we serve:
Oneida
Onondaga
Oswego
Otsego
St. Lawrence
Tioga
Tompkins
Broome
Cayuga
Chenango
Cortland
Herkimer
Jefferson
Lewis
Madison
According to the U.S. Census Bureau projections based on the 2010 Census, the population age 65 and older is expected to more than double between 2012 and 2060, from 43.1 million to 92.0 million. The older population would represent just over one in five U.S. residents by the end of the period, up from one in seven today. The increase in the number of the "oldest old" would be even more dramatic – those 85 and older are projected to more than triple from 5.9 million to 18.2 million, reaching 4.3 percent of the total population (U.S. Census Bureau, 2012).
By 2050, the number of people age 65 and older with Alzheimer's disease may nearly triple, from 5 million to a projected 13.8 million (2010 U.S. Census/Herbert, 2013).
The impact of Alzheimer's disease in New York State is directly related to the demographics of our aging population and will result in dramatic increases in service needs. The Central New York Alzheimer's Disease Assistance Center assists Central New York residents in identifying and securing needed services.
Care Locations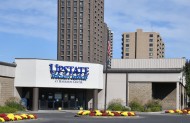 Upstate Specialty Services
Read More
>