Memory Assessment
The CNY ADAC is a resource for patients and families concerned about increasing memory loss, confusion or disorientation, providing a complete assessment of the patient and works with the patient and their family to develop a plan.
Many things can cause memory loss or dementia, and early detection and diagnosis is key in ensuring the patient receives proper care. When a person experiences a decline to intellectual ability that is severe enough to interfere with their daily routine, it is important to seek out the expertise that is found at University Geriatricians, the clinical service providers for the Alzheimer's Disease Assistance Center of Central New York.
The memory assessment will include a complete evaluation of the medical, functional, cognitive and psychosocial problems, and abilities of the older adult. Reviews of the person's detailed history in conjunction with results of their exam and tests will assist in the diagnosis of Alzheimer's disease or related dementias. A comprehensive and individualized care and management plan will be developed for each patient that addresses current needs and takes into account existing supports available.
Our team recognizes the stresses that caregivers have when caring for someone with memory issues or dementia. Caregivers need respite and support as they deal with the progression of dementia in their loved one. The team will assist the caregivers in identifying resources that can help them cope with the care of their loved one and serve as a resource as the situation and needs change.
ADAC Team
The team at University Geriatricians includes geriatricians - physicians specializing in the care of older patients, fellows in geriatric medicine, a gerontological social worker, nurse practitioners, and nurses specializing in geriatrics. Everyone on the team is is familiar with the needs and particular concerns of older adults.
Care Locations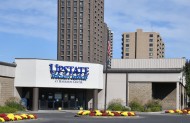 Upstate Specialty Services
Read More
>