Education
CNY ADAC provides educational activities, including:

Conferences
Seminars
Lectures and workshops by faculty
Annual Alzheimer Conference for health care professionals and caregivers

The CNY ADAC partners with the Central New York Chapter of the Alzheimer's Association, to provide coordinated educational and support services to caregivers, share staff training.
The CNY ADAC has worked hard to establish relationships with community coalitions that provide a local focal point of support and care for patients and families. Each coalition serves as an entry point for information, building on the existing agency's strengths for case management, and then acting as a catalyst to provide new and needed services.
The CNY ADAC allows for ambulatory training in geriatric medicine and dementia-related care for medical students, internal medicine and psychiatry residents, social work students from Syracuse University, nurse practitioner students from Syracuse University and physician assistant students from LeMoyne College.
Care Locations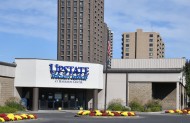 Upstate Specialty Services
Read More
>