SUNY Upstate's Endocrinology ECHO is anticipated to launch in the Summer of 2018. To register for our upcoming clinics please click on the registration tab. For any other questions please contact Margie Hartmann at hartmmar@upstate.edu
Our Endocrinology ECHO was made possible by a generous grant from the U.S. Department of Health and Human Services, Centers for Medicare and Medicaid Services. "The project described was supported by Funding Opportunity Number CMS 1G1CMS331402 from the U.S. Department of Health & Human Services, Centers for Medicare & Medicaid Services. The contents provided are solely the responsibility of the authors and do not necessarily represent the official views of HHS or any of its agencies."
Endocrinology ECHO Staff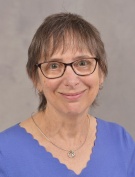 Ruth Weinstock, MD
Ruth S. Weinstock, MD, PhD, is SUNY Distinguished Service Professor and Division Chief of Endocrinology, Diabetes and Metabolism in the Department of Medicine at SUNY Upstate Medical University, Syracuse NY. She is also the Medical Director of the Clinical Research Unit and Medical Director of the Joslin Diabetes Center at Upstate Medical University. Dr. Weinstock graduated from Smith College summa cum laude with Highest Honors in the Biological Sciences, and received her MD and PhD degrees from Columbia University. She received the SUNY Research Foundation Award Honoring Research in Science, Engineering and Medicine, the SUNY Chancellor's Award for Excellence in Scholarship and Creative Activities, and in 2017 the American Diabetes Association Outstanding Physician-Clinician Award.
Her research over the past 25 years has focused on the study of new approaches for the prevention and management of diabetes mellitus and its complications. She has been an investigator in over 75 clinical research projects, which have been sponsored by the National Institutes of Health, the Department of Veterans Affairs, the Centers for Medicare and Medicaid Services and multiple industry sponsors and not-for-profit organizations. Dr. Weinstock is a member of numerous professions organizations, including the American College of Physicians (fellow), the American Diabetes Association, the American Association of Clinical Endocrinologists (fellow), the Endocrine Society and others. She has >200 publications and has served on grant review panels for the National Institutes of Health (NIDDK), on the National Board of Directors and numerous committees of the American Diabetes Association, as Associate Editor of Diabetes Care and Section Editor for Endocrinology for the Mayo Clinic Proceedings, on the editorial board of Endocrinology, on national committees for the Department of Veterans Affairs, as well as on other national, regional and local committees and task forces related to diabetes research and improving diabetes care.
Marisa Desimone, MD
Dr. Marisa Desimone was born in Syracuse NY and is a graduate of LeMoyne College. She obtained her medical degree at SUNY Upstate Medical University. Her residency was at the University of Pittsburgh Medical Center where she also completed her fellowship in Endocrinology, Diabetes and Metabolism. She currently practices in Syracuse, at the Joslin Center at SUNY Upstate Medical University.
Dr Desimone has particular interest in the use of technology for the delivery of healthcare and has been providing telemedicine services for the State of New York since joining SUNY Upstate, where she serves as the director of the Endocrinology Telemedicine program. Her other interests include endocrine complications of cystic fibrosis and the transition of patients with type 1 diabetes from pediatric to adult health care. She enjoys an active teaching role as well, and serves as associate fellowship director for the Endocrine department.