Content
Events
2012 Hispanic Heritage Month Celebration
Wed. Sept. 12-Sat., Oct. 13. Download a complete list of events

.
AIDS Walk/Run
Team Upstate raised more than $3,000 at the 18th Annual AIDS Walk/Run, held June 6 at the Beaver Lake Nature Center. Proceeds from the event are used to support basic needs of people living with HIV/AIDS. Ray Joss of Clinical Pathology served as the head team captain. Edgar Johnson of the Office of Diversity and Affirmative Action was captain.
Upstate Wins Award at Annual Duck Race to End Racism
Karin-Franklin, MC, announces that Upstate Medical University was the winner of the corporate duck race at the Community-wide Dialog's Duck Race to End Racism, held on Saturday, June 12 at Syracuse's Inner Harbor. As the winning corporate team, Upstate employees drew the name of the non-profit agency to receive a $1,000 donation: the Huntington Family Center. Upstate's duck, decorated to highlight Upstate's Cancer Center, was a two-time winner. It also won the "best dressed duck" award.
Team Upstate Participates in Juneteenth Parade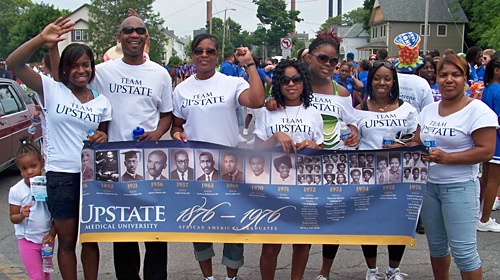 Sickle Cell Walk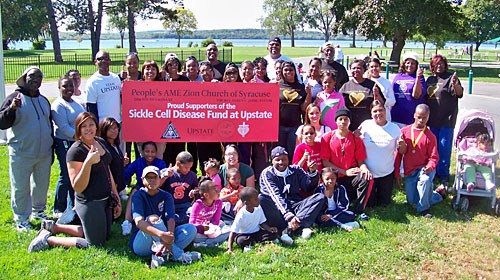 Upstate Medical University's Sickle Cell Parents Group and Team Upstate employees joined members of the People's AME Zion Church of Syracuse for the third annual "Sickle Cell Walk" Sept. 18 at Onondaga Lake Park in Liverpool. The 5k walk was organized by the church and led by the Rev. Daren C. Jaime, to raise awareness of sickle cell disease and to raise funds for patient care and research at Upstate University Hospital and the Upstate Golisano Children's Hospital.
Since 2007, the People's AME Zion Church of Syracuse has raised more than $4,500 for patient care and research on sickle cell at Upstate. Since the December earthquake, the church has also raised $700 for medical supplies for Haiti, which they donated to Upstate's Office of Global Health Education for distribution by "Team Haiti," the five Upstate medical students who are doing volunteer work at a hospital and orphanage in Haiti.
Veterans' Day Parade