Dear Students & Faculty:
We live during a period of rapid growth and change, and undoubtedly questions will arise about issues in the College of Medicine. Feel free to send them my way

and I will either answer them personally or find someone who can help you. I also welcome your observations and suggestions about what we do well and what we can do better.
I look forward to hearing from you.
David B. Duggan, MD, MACP
Dean, College of Medicine
Dean's Leadership Team
Paula Trief, PhD
Senior Associate Dean for Faculty Affairs and Faculty Development
Faculty Affairs
Oversees the promotion and tenure process and supports faculty on their path to promotion. Helps to recruit and retain excellent and diverse faculty and chairs.
Faculty Development
Implements development programs to enhance the teaching, research, and clinical skills of the faculty. Advises the Dean on all issues relevant to the faculty.
www.upstate.edu/facultydev
Rajesh Dave, MD, MBA
Dean, Clinical Campus
Oversees the faculty, staff and students at Upstate's Binghamton campus. Also maintains relationships with a network of volunteer faculty and the four regional affiliate hospitals. The clinical campus at Binghamton offers third- and fourth-year medical students direct interaction with community physicians.
www.upstate.edu/com/about/campuses/bing/admin.php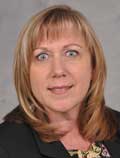 MaryGrace VanNortwick
Chief of Staff
Advises the Dean in a broad range of areas and works with leadership to move the Dean's agenda forward. This involves managing and monitoring information flow to the Dean and assisting the office to efficiently respond to everyday demands and to keep special projects on task. The Chief of Staff oversees finance and space, program details and communication regarding projects and requests. The role involves taking on analysis and planning for new initiatives, tracking outcomes, and implementing decisions that require an intricate understanding on the business entities involved.
www.upstate.edu/capitalprojects/
Rick Gardner
Senior Associate Dean for Finance
Advises the Dean and the Chief of Staff on matters relating to the finances of the College of Medicine and space issues throughout the campus. This includes monitoring and analysis of College finances, to include State, research, practice and other revenues; recommending policies regarding finances; working directly with departmental leadership to evaluate business activity of the departments; and monitoring systems that account for use of space.