College of Medicine Dean's Office
The Office of the Dean oversees the functions of the College of Medicine, which include all aspects of Upstate's mission: Education, Research and Patient Care.
Nearly 500 College of Medicine faculty members provide education for 750 medical, graduate and master's of public health students at Upstate. In the community, 2,000 volunteer faculty precept our students during the clinical aspects of their education.
Faculty in our 18 clinical service lines deliver care at Upstate University Hospital, the region's only level-1 trauma center and home to the region's only children's hospital.
Biomedical research at Upstate is dedicated to some of the most pressing issues related to human health and disease.
Each of these areas is growing, with increases in student admissions, research funding, and patients served.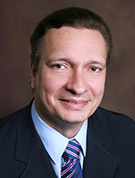 Julio Licinio, MD, PhD
Dean, College of Medicine
College of Medicine Dean Dr. Julio Licino's 30-year career in academic medicine is marked by a record of success in leading academic programs of training, research, patient care and community engagement, both nationally and internationally.
Licinio comes to Upstate from the South Australian Health and Medical Research Institute, in Adelaide, Australia, where he serves both as deputy director of translation strategy and process and as the Head of the Mind and Brain Theme, as well as the Matthew Flinders Distinguished Professor at Flinders University also in Adelaide. He also held posts at UCLA, University of Miami, Australia National University and Yale University. (Continued)