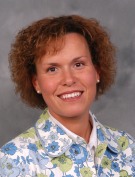 Jodie Brown, RN, MSN/MBA
Director, Center for Continuing Education

After being in the Air Force reserves, I came out of retirement to pursue further education. I would like to teach, and the Post Master's work supports that. Nursing truly is a life-long opportunity, both in what you want to do and the fact that you can take your career anywhere in the country.
—Carolyn Baskerville, RN, BS, MS, Post-Master's, 04, Pediatric
Content
Continuing Nursing Education
Whether or not you're enrolled in the College of Nursing, SUNY Upstate offers a variety of accredited, continuing nursing education courses for interested nurses. From half day to weekend-long conferences, nurses have the opportunity to enhance or learn new skills.
Continuing education courses are taught by a range of skilled faculty from across the region.  We partner with service line departments on our campus-such as Pediatrics or the AIDS center-to provide accredited specialty conferences. Courses such as Children at Risk, NP Review Course, Clinical Skills Day and Post Master's Certificate programs are repeated regularly because of popular interest.
Accreditation
Many continuing education programs are awarded with contact hours.
The SUNY Upstate Medical University Institute for Continuing Nursing Education is an approved provider of continuing nursing education by the New Jersey State Nurses Association, an accredited approver by the American Nurses™ Credentialing Center's Commission on Accreditation.
It has been assigned Provider Code NYP260-6/30/2017.
If you would like more information, have an idea of a program, or would like to collaborate with the college on a program, contact Jodie Brown at brownjod@upstate.edu or 315 464-3905.
NURSING INNOVATION AND ENTREPRENEUR SUMMIT
Wednesday, November 30 ~ 8:00 AM - 4:00 PM
CNY Biotech Accelerator
841 East Fayette Street
Syracuse, NY
This one-day event at the Biotech Accelerator is for nurses, NPs, PAs, case managers, social workers, nursing assistants, surgical technicians and other caregivers interested in nursing innovation and entrepreneurship.  It will showcase the resources available through the Accelerator, highlight developments that will improve the health of our communities, and promote the recruitment and retention of an innovative nursing workforce.
Contact Hours: 6.0 contact hours will be awarded for the full day.
Registration: Free to Upstate employees, all other registrations $65
Information: 315-464-4276, brownjod@upstate.edu (Jodie Brown)
Register Online: https://www.upstatefoundation.org/nursing

Free Parking is available: Access to the lot is at the corner of Irving Avenue and East Fayette Street.  There is a shuttle from Upstate locations (event is near the LC stop). 
Hotel: A courtesy block of rooms is available at the Genesee Grande Hotel from $102/ night.  Call 315-476-4212 or email Reservations@woodbinehospitality.com and reference the "Upstate Nursing Innovation Summit".  The hotel is conveniently located 0.3 mile from the CNY Biotech Accelerator.
The Upstate Nursing Department of Professional Practice and Innovation, Upstate Medical University College of Nursing, and Upstate Biotech Accelerator will be hosting this one day continuing Nursing educational program.
Schedule:
7:15 AM Registration Opens
8:00 AM Introduction
Megan Greenman, Clinical Nurse Specialist, Upstate Nursing Professional Practice and Innovation
Welcome
Nancy Page, MSN, RN, NE-BC, Chief Nursing Officer, Upstate University Hospital
8:15 AM Beyond Boundaries: When Nursing Meets IT - Innovation in Healthcare
Dr. Shuhong Luo, EdD, MSN, RN, Assistant Professor, Upstate Medical University College of Nursing
9:00 AM Getting Started: How to Get Involved in Health Innovations
Robert Corona Jr, DO, MBA, FCAP, FASCP, Professor and Chair, Pathology; Vice President for Innovation and Business Development
10:00 AM Break
10:30 AM Intellectual Property Whose Idea Is It?
Win Thurlow, J.D., Office of University Counsel, Upstate Medical University
11:30 AM FDA Good Clinical Practice Regulations for Medical Devices
Kathi Durdon, MA, CCRP, Director of Operations, CNY Biotech Accelerator
12:30 PM Lunch (provided)
1:15 PM Licensing Your Innovation
Steven Lickstein, J.D., Newman & Lickstein
2:15 PM Break
2:30 PM Lessons Learned from Nurse Innovators Who Survived Medical Device Development
Sherod Harris, BSN, RN, ICU SWAT Nurse, Nursing Support Services, Upstate University Hospital; President and Co-Founder, Harris Skeele Corp.
Trina Skeele, BSN, RN, Director of Patient Safety for Emergency Medicine Group, Upstate University Hospital; Vice President & Co-Founder, Harris Skeele Corp.
Online Nursing Case Management Course
A course for Nurses and other professionals who work directly with patients and coordinate their healthcare activities.
APPLY BY MARCH 1 FOR FALL, JUNE 1 FOR SPRING!
For additional information about the Case Management course, visit the course page.
For registration information and material call or email:
Jodie Brown, Director, brownjod@upstate.edu, 315 464-4276