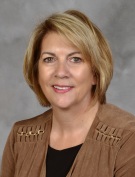 Roberta A. Rolland, PhD, RN, FNP
Director of Bachelor's Program

"The FNP program has helped me to grow professionally, while allowing me the flexibility to meet the needs of my family. The faculty are knowledgeable, offering guidance and support when I need it most."
—Sean Campanie, FNP
Family Nurse Practitioner
Content
Program of Study
Bachelor's students may choose a 2 year or 4 year program of study to complete their degree, depending on their needs.  Many students in the bachelors program attend part-time. It is suggested that part-time students take a minimum of 12 credits per year (two courses per semester) to progress through the program in a timely manner. To maintain full-time status, students must take 12 or more credits per semester.
Bachelor of Science 2 Year Program of Study

Bachelor of Science 4 Year Program of Study

For individual course descriptions, please visit the Academic Catalog