Online Bachelor of Science Program
The Future of Nursing is Taking Shape Now
Research has shown patients do better when cared for by RNs who have earned a Bachelor of Science. Upstate Medical University's Online BSN program is an opportunity for you to improve your skills and expand your horizons in health care.

The Online Bachelor of Science in Nursing offers unprecedented flexibility for full-time and part-time students, including working nurses.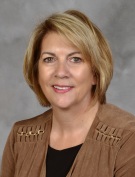 Roberta A. Rolland, PhD, RN, FNP
Director of Bachelor's Program
Application Period
BS Program
Spring 2019: September 15th - December 1st
Fall 2019: September 15th - June 1st
Semester Begin Dates
Fall Semester - late August
Spring Semester - early January
Residency Requirement
This program has a residency requirement of 30 credit hours.
About the Program
This online degree program is a flexible, upper division program for registered nurses with associates degrees or diplomas in nursing. The courses build on the foundation of AAS education to achieve the Essentials of Baccalaureate Education (AACN, 2008)
Our program focuses on theory and application, provides exposure to many areas of nursing, and serves as a foundation for graduate study. It prepares you to deliver comprehensive care to patients of all ages in a variety of settings as a direct care provider and as a nursing leader.
Most full-time students complete degree requirements in two years. Part-time students taking two or three courses per semester will complete the degree in four or five years. Degree requirements must be completed within 5 years of matriculation.
The baccalaureate program prepares you to care for patients, families and communities in a diverse array of healthcare settings. With the increasingly complex care needed by patients today, it is imperative that nurses be prepared at a higher level. The "Future of Nursing (2011)

report by the Institute of Medicine documents the need for at least 80 percent of the nursing profession to have the baccalaureate degree by 2020 because research has shown an association between staffing with nurses with bachelor's degrees and better patient outcomes.  Better outcomes include everything from fewer pressure ulcers to lower rates of post-surgical mortality.  The degree is of particular importance in New York State due to recently passed "BS in 10" legislation.
Our curriculum will prepare you to be a leader in a technological, information driven, complex healthcare system.
Take your courses conveniently. Courses are offered online so you can create a schedule that meets your life and lifestyle.  Your faculty advisor will work with you to determine the best program for you.
For information on individual state licensing requirements, please visit the State Licensing Requirements page.