Pledge Update
2013 Campaign Update
1,236 pledges totaling $460,849!
That's 15% toward our goal of 25% participation
as of 11/22
Department Representative's Page
A special thank you to all our dedicated department representatives... because of your leadership, we are confident that this campaign will be another huge success!
Training for Representatives
TIPS FOR REPS...
from department reps who can vouch for their success!
Make a personal "ask"
Run a department raffle
Have a competition with another dept
Enter names into a drawing
Throw a kickoff party
Offer special baked goodies
Share campaign publicity (from Upstate Update, Announcements, etc.) with co-workers via e-mail
send a personal "thank you" note
ask for a 24-hour turnaround
Encourage 1st-time donors
---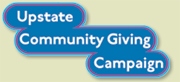 ---
Need Pledge Forms?
Call 464-4845 or visit:
Jacobsen Hall, Rm. 100
Weiskotten Hall, Rm. 1158
University Hospital, Rm. 1500A
Silverman Hall, Rm. 1104
Campus Activities Bldg, Rm. 326

Helpful Links