Pledge Update
2013 Campaign Update
1,302 pledges totaling $490,695!
That's 16% toward our goal of 25% participation
as of 12/13
Won't you join me?
Click to listen >>
I Support the Arthritis Foundation
Hi, I'm Shelley White. I support the Arthritis Foundation because I was diagnosed with juvenile rheumatoid arthritis when I was 2 1/2.
There are many more treatment options today than when I was growing up. There's still much more needed.
The Arthritis Foundation means a great deal to me. I have chosen to support them through the Upstate Community Giving Campaign. Please join me. It's so easy to support the agency that means the most to you with payroll deduction.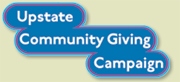 ---
Need Pledge Forms?
Call 464-4845 or visit:
Jacobsen Hall, Rm. 100
Weiskotten Hall, Rm. 1158
University Hospital, Rm. 1500A
Silverman Hall, Rm. 1104
Campus Activities Bldg, Rm. 326
Or
download a pledge form.

Helpful Links