2016 Pledge
Pledge Total
As of 1/9/16 1,382 donors have pledged $528,291.
Thank you!
$100 ePledge Winners
Congratulations!
Day 1 - Beth DeRousie, IMT, Hospital Info Systems
Day 2 - Tree Carter, Record Storage
Day 3 - Darcy DiBiase, Marketing & University Communications
Day 4 - Beth Rolland, PM&R - Rehab Therapies
Day 5 - Nancy Ondrejka, CG Radiology RN's
Day 6 - Liliya Yatsyuk, Nursing-5E-Pre/Post
Day 7 - Patricia Racculia, Orthopedic Surgery
Day 8 - Karin McMullen, Nursing-Administration
Day 9 - Erin Peters, Office Of The President
Day 10 - Amanda Walsh, Clin Path Immunology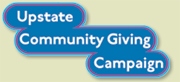 ---
---
Content
Won't you join me?
Hello, my name is Wanda Thompson and I help support Vera House because they help women and children escape from abusive relationships. My eyes were opened to domestic violence when I was in high school. My best friend, Marie, married her abusive boyfriend, only to have him beat her while she was pregnant. She lost her baby, but she didn't leave him. It was not until she made a connection with a local charity like Vera House that she was she able to declare her independence and leave him.
Vera House means a great deal to me because there are many women like my friend, Marie. Vera House provides them with the support and encouragement necessary for them to change their lives.
Won't you join me in donating to a charity and making a difference in someone's life?